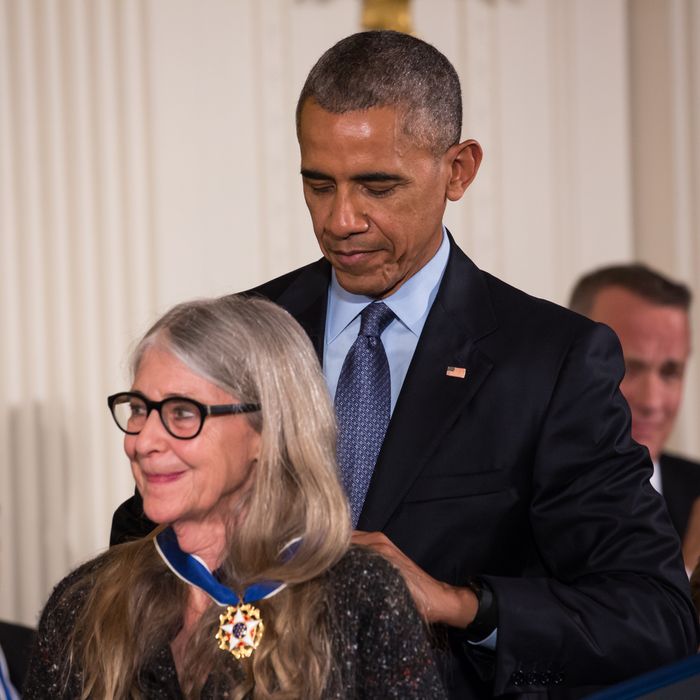 Margaret Hamilton and President Barack Obama.
Photo: Cheriss May/NurPhoto via Getty Images
President Barack Obama presented boundary-breaking software engineer Margaret Hamilton with the Presidential Medal of Freedom for her work on the software behind the Apollo 11 mission. Hamilton, who wrote code by hand for the onboard guidance software, was one of many programmers who made it possible for Neil Armstrong and Buzz Aldrin to safely land on the moon instead of aborting their mission entirely.
Obama praised her as someone who "symbolizes that generation of unsung women who helped send humankind into space."
However, Hamilton didn't just work on the code that made it possible for humans to walk on the moon. According to a 2015 Wired profile, Hamilton was a young working mother in the '60s when she began working as a computer programmer at MIT, in a field she compared to "the Wild West."
Hamilton would bring her daughter Lauren by the lab on weekends and evenings. While 4-year-old Lauren slept on the floor of the office overlooking the Charles River, her mother programmed away, creating routines that would ultimately be added to the Apollo's command module computer.
Fellow coder Grace Hopper also received the Presidential Medal of Freedom, posthumously.