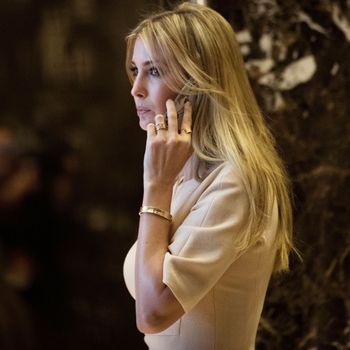 Photo: Drew Angerer/Getty Images
In the wake of Trump's "locker-room talk" scandal — which feels like years ago, doesn't it? — technology-and-media-marketing specialist Shannon Coulter created the hashtag #GrabYourWallet to encourage consumers to boycott businesses that carry Ivanka Trump's clothing and accessories lines. And now that a Trump administration is imminent, Coulter and others are encouraging critics of the president-elect to put their money where their mouths are.
An updated spreadsheet has been circulating on Twitter listing the retailers that do business with the Trump family, along with contact information their customer-relations departments. These include major retailers like Amazon, Macy's, Marshalls, Neiman Marcus, Nordstrom, Bloomingdale's, and Lord and Taylor, all of which carry the Ivanka Trump collection.
The spreadsheet also lists other companies to consider boycotting, including People magazine, which has been active in normalizing the Trump family despite the fact that the president-elect allegedly sexually assaulted one of its writers, and New Balance, which has expressed public support for Trump.
#GrabYourWallet saw its first victory a few days ago, when Shoes.com became the first retailer to dump Trump products as a result of the boycott.