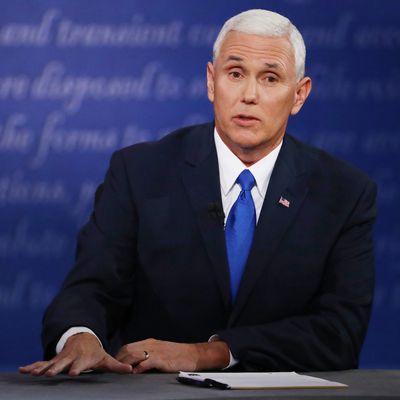 Indiana governor Mike Pence.
Photo: Bloomberg/Getty Images
A lot of people have been donating to Planned Parenthood following the election, and many have chosen to do so on behalf of someone else. The same someone, actually: Indiana governor and noted uterine legislator Mike Pence.

Pence hates Planned Parenthood and abortion so much that he signed a bill written specifically to shut down a clinic that only provided medication abortions, saying it had to meet the same facility standards as ones that offered surgical procedures. The state also closed a health center that was one county's only place to get HIV testing — and an outbreak of HIV followed. Now, Pence will be getting lots of thank-you's from Planned Parenthood.

The idea was first posted on Facebook on October 21, more than two weeks before the election, by The Lady Brain Show. Later, musician Bethany Cosentino of Best Coast shared this message, which was reposted by Amber Tamblyn and Amy Schumer.

Women and men across the country also tweeted about their donations.

And the organization confirmed that it's receiving donations in honor of Pence.

Poetic justice.