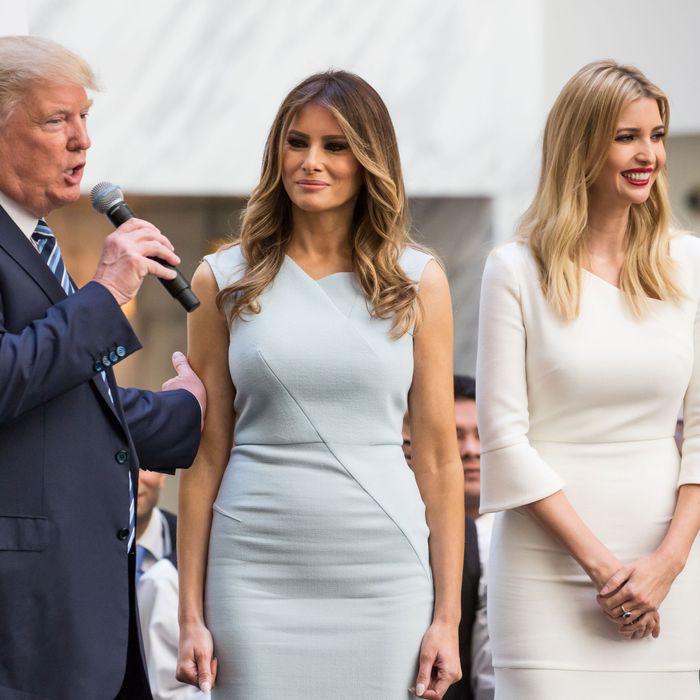 Melania and Ivanka Trump
Photo: Cheriss May/NurPhoto via Getty Images
In the early hours of November 9, the world learned that Donald Trump was elected the next president of the United States. This was a shocking victory — one unforeseen by polling estimates — and a harrowing one. Trump was a repugnant political candidate in every way: a blustering demagogue with no political experience but with a history of bragging about sexual assault and spouting racist rhetoric.

One of the more high-profile sexual assault accusations that came out during Trump's run was that of Natasha Stoynoff, a staff writer at People back in 2005 who was assigned a story on Donald and Melania. In an account published by People on October 12, Stoynoff writes that he forcibly kissed her and told her "You know we're going to have an affair, don't you?" People editorial director Jess Cagle wholeheartedly came out in support of her, calling Stoynoff "a remarkable, ethical, honest, and patriotic woman" and writing that those at the magazine "stand steadfastly by her, and are proud to publish her clear, credible account of what happened." (Trump, for his part, denied the claims by telling a rally he didn't find Stoynoff attractive enough to sexually assault.)

But starting the morning of November 9, the first morning Trump became the President-elect, there was a definitive shift: People began to cover Trump and his family in a noticeably more positive light.

Their first tweeted-out story cheekily exclaimed "He's hired!," a reference to Trump's "you're fired" Apprentice catchphrase.

The tabloid then celebrated his daughter Ivanka with "27 Photos of Ivanka Trump and Her Family That Are Way Too Cute," writing that "Ivanka, her husband Jared Kushner, and their children Arabella, Joseph, and Theodore have the adorable Instagram thing down pat."

Ivanka was also photographed getting "back to business," while Melania's best outfits on the campaign trail also garnered a slideshow.
And, of course, what else could anyone be thinking about during a time like this besides Trump's White House décor plans?
So much for standing by Stoynoff.