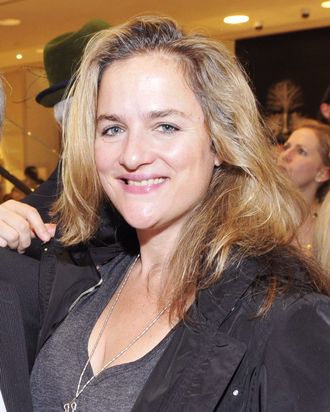 Natasha Stoynoff.
Photo: Patrick McMullan/Getty Images
In October, Natasha Stoynoff became one of several women to accuse the now-President-elect Donald Trump of sexual assault. Stoynoff published her account in People, writing that when she was working on a story about Donald and Melania for the magazine in 2005, he tried to forcibly kiss her. Since his victory, Stoynoff has come forward — again via People — to share her post-election thoughts.

In a new interview, Stoynoff said she was "heartbroken" over the election and "sad but staying hopeful." She added, "I have faith in myself to move forward — and in my fellow Americans to band together and aggressively ensure that our laws protecting diversity and human rights not only stay intact but flourish."

Following the election, People magazine has been criticized for pandering to the Trump family — with slideshows celebrating Ivanka's family and Melania's campaign trail style, for instance — a move that was even more noticeable due to the fact that their own writer had said she was once attacked by Donald. Those who were angry about the pivot in Trump coverage even started using the #BoycottPeopleMagazine hashtag, which had been established earlier by Trump supporters who were angry after People published Stoynoff's account.

Last Friday, Alan Murray, chief content officer of Time Inc., acknowledged the more recent boycott in a company-wide email, calling out "self-appointed social media critics." In a message sent the day prior to People staff, the magazine's editorial director, Jess Cagle, also addressed the recent condemnations, doubling down on their support of Stoynoff:
I assure you that the cover on the president-elect is in no way a celebration or endorsement of this deeply polarizing figure. And we continue to stand steadfastly by Natasha. Her attack is of course recounted in the cover story. Last Friday, we posted a video in which she again discusses the attack and responds to the nasty things Trump has said about her recently. We will never forget what happened to Natasha, and frankly we don't want our audience to forget, either.
Seems like People has found itself stuck between pleasing the "minivan majority" that comprises the bulk of its readership and likely voted for Trump — and defending its one-time writer. The magazine will likely spend the next few years toeing that line.