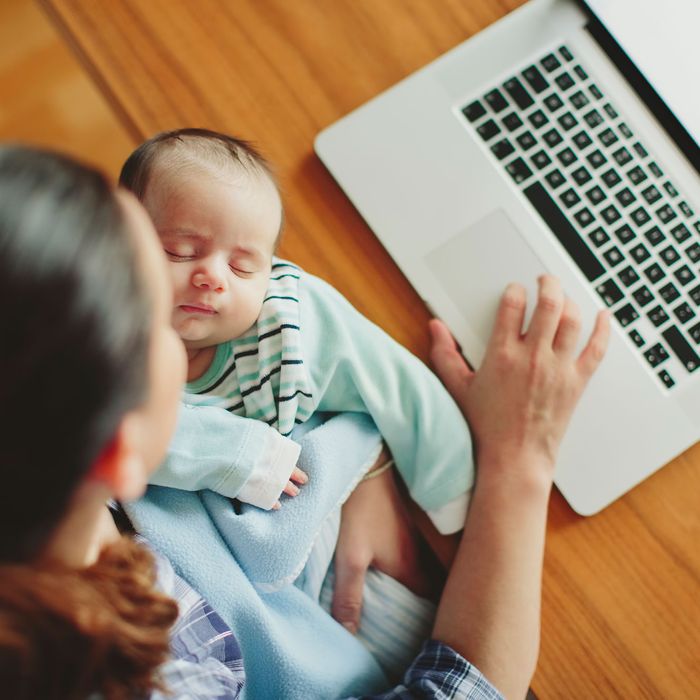 A new report found paid family leave at top companies isn't great.
Photo: Thanasis Zovoilis/Getty Images
Many people would assume that working for the top companies in the U.S. would guarantee them paid family leave when the time comes. However, a new report uncovered that the majority of major American companies have "inadequate and discriminatory" policies that don't guarantee time off, and also tend to neglect fathers, adoptive parents, and lower-wage workers.
A new report from paid-family-leave advocacy organization PL+US, entitled "Forging Ahead or Falling Behind," sought to investigate the paid-family-leave policies of 60 of the biggest companies in the U.S. Yet 29 of the companies would confirm their policies. The report found that none of the companies provided the six months of maternity leave recommended by the president of the American Academy of Pediatrics.
Deloitte, Bank of America, and Ernst & Young were found to have the best policies of the bunch, offering 16 weeks paid leave for birth mothers, birth fathers, and adoptive parents. Citigroup, General Electric, and Procter & Gamble were close behind, with 16 to 18 weeks for birth mothers, 4 to 12 weeks for birth fathers, and 4 to 16 weeks for adoptive parents. In contrast, Walmart, the largest employer in the company, only offers paid leave to salaried employees and not hourly workers, the report noted.
The report said that 22 of the 29 companies give birth fathers "significantly less time" off than birth mothers, and adoptive parents less time than birth parents. In fact, many companies don't offer any paid parental leave for fathers and adoptive parents, which "has far-reaching implications for LGBTQ families," according to the report.