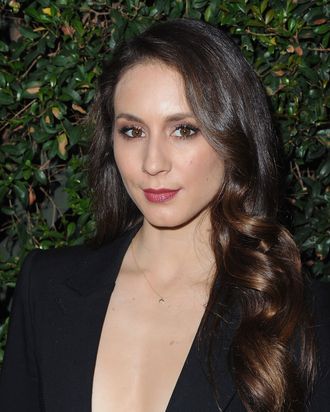 Troian Bellisario.
Photo: Jon Kopaloff/FilmMagic/Getty Images
Pretty Little Liars star Troian Bellisario made a voting PSA in which she explains how having recovered from an eating disorder has strengthened her support for Hillary Clinton.

"[Mental illness] is a huge issue, and I am such a huge supporter of Ms. Clinton for so many reasons. Specifically because she's been such a huge advocate for health care," the 31-year-old actress says in the video for the site ATTN. "And her definition of health care includes mental health care. And that to me is just — it's the deciding factor between both candidates."
"With anorexia, a lot of it is presenting a front of 'everything is okay' as you're slowly killing yourself," says Bellisario, who had previously told Seventeen that she withheld food in high school but stopped short of saying she suffered from anorexia. About one in five American adults have a mental health condition and more than half do not receive treatment.

"If I had just been sort of shunned to the side as not having 'real problems,' I don't know that I would be living today," she says. "I just want to make sure that everybody has the same opportunity for treatment that I have, and I think that we have to make sure our government invests in those programs."
She added in an Instagram post that we need "programs in schools to support students dealing with mental illness and for the continued support and treatment (without stigma) of adults to not just survive but thrive."
Watch the full video below.