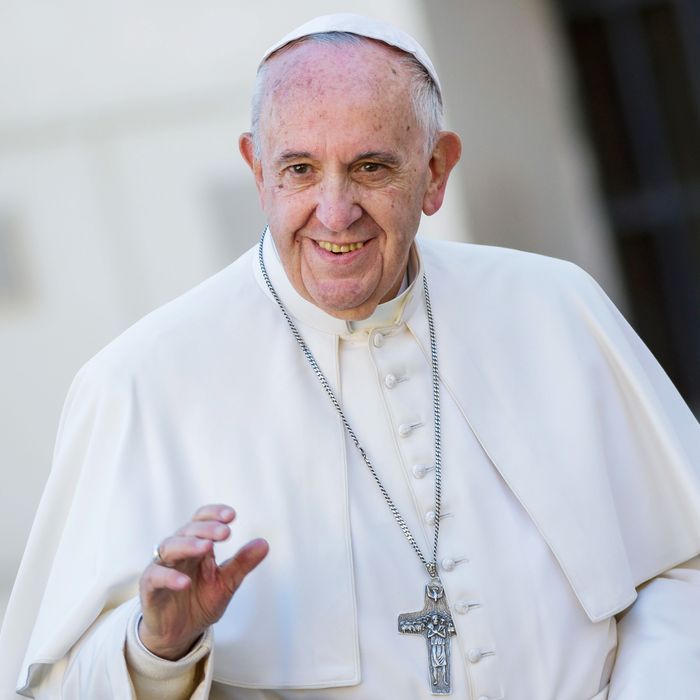 Pope Francis.
Photo: Giuseppe Ciccia/NurPhoto via Getty Images
On Monday, Pope Francis gave all Catholic priests the power to forgive abortions, permanently extending a special exemption he granted during the Church's Year of Mercy, which ended Sunday. Under this new ruling, Catholic women who have had abortions can go to any priest, confess, and receive forgiveness for what the Church catechism has long considered a "moral evil." Francis acknowledged this in his apostolic letter, released by the Vatican on Monday:
I wish to restate as firmly as I can that abortion is a grave sin, since it puts an end to an innocent life. In the same way, however, I can and must state that there is no sin that God's mercy cannot reach and wipe away when it finds a repentant heart seeking to be reconciled with the Father. … I henceforth grant to all priests, in virtue of their ministry, the faculty to absolve those who have committed the sin of procured abortion.
Before the Year of Mercy — which lasted from December 8, 2015, to November 20, 2016 — an abortion meant immediate excommunication from the Church; often, only a bishop could offer a woman forgiveness. The new measure continues what Vatican officials have called "a widening of the Church's mercy."
The pope's announcement comes weeks after Donald Trump, who opposed abortion during his campaign, won 52 percent of Catholics' votes (7 percentage points above Hillary Clinton) and 60 percent of white Catholics' votes, according to exit polls. This marked a significant swing within the Catholic Church: In the previous two presidential elections, Catholics voted for Obama by 9 percentage points in 2008, and 2 points in 2012.