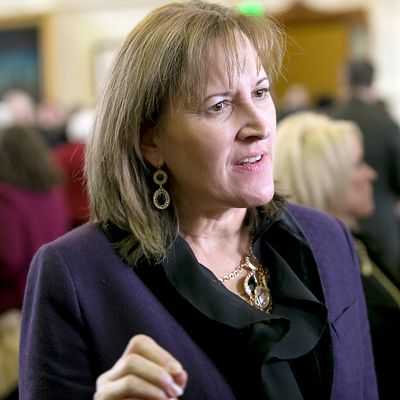 Texas State Senator Konni Burton.
Photo: Ralph Barrera/AP
A new bill filed by Texas State Senator Konni Burton says a parent is entitled to all of a school's written records about their child's "general physical, psychological or emotional well-being." In other words, if parents ask for the information, teachers must give it to them — including information about their child's sexual orientation.
According to her website, Burton filed the bill in response to new guidelines that passed in the Fort Worth school district regarding transgender students. "The guidelines made it acceptable for teachers and staff to withhold personal information about a student from that student's parents," she wrote. That's why she proposed legislation defending a parent's "basic right to matter in their child's life again." The bill goes so far as to propose that teachers and counselors who withhold information from parents be disciplined.
But Equality Texas, a nonprofit that works to secure equal rights for LGBT Americans, issued a statement opposing the bill. "Until kids are not kicked out of their house for being gay or transgender, and until kids are not being beaten by parents for being gay or transgender, we owe it to kids to protect them," the statement read. "We believe Sen. Burton's legislation would essentially destroy protected communications between a student and an educator."
Burton's office objected to this characterization of the bill, saying parents would only be privy to the information if they specifically asked for it.