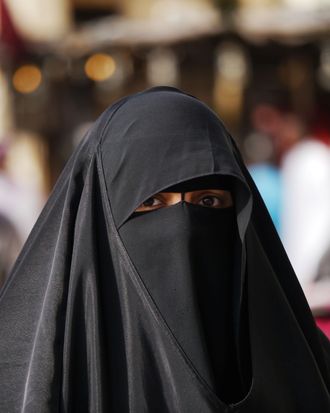 A woman wearing a niqab.
Photo: Amos Chapple/Lonely Planet Image/Getty Images
In 2011, France made it illegal for anyone to cover their face in public — the ban technically includes items such as masks and balaclavas, but was mainly passed to prevent Muslim women from wearing niqabs and burqas. According to the Atlanta Journal-Constitution, an update to a state bill is being proposed that would bring similar restrictions stateside.

Georgia already has an anti-masking law that was initially passed to prevent Ku Klux Klan members from wearing their hoods in public. It reads as follows:

A person is guilty of a misdemeanor when he wears a mask, hood, or device by which any portion of the face is so hidden, concealed or covered as to conceal the identity of the wearer and is upon any public way or public property or upon the private property of another without the written permission of the owner or occupier of the property to do so.

In House Bill 3, Republican State Representative Jason Spencer proposes expanding the currently gender-specific state law to state "a person is guilty of a misdemeanor when he or she wears a mask, hood …" [emphasis ours] and so forth. The bill would also ban such coverings while driving and taking a Georgia driver's license photo. It would effectively make it illegal to wear a hijab, niqab, or burqa in public.

This proposed bill comes following Donald Trump's victory, a time when there's been a reported increase of anti-Muslim harassment, with some Muslim women even expressing fear of wearing the hijab in public.

Update (5:05 p.m.): According to CBS46, Spencer has withdrawn the proposed bill, citing the "visceral reaction it created." His statement continued, "While this bill does not contain language that specifically targets any group, I am mindful of the perception that it has created. My objective was to address radical elements that could pose a threat to public safety."