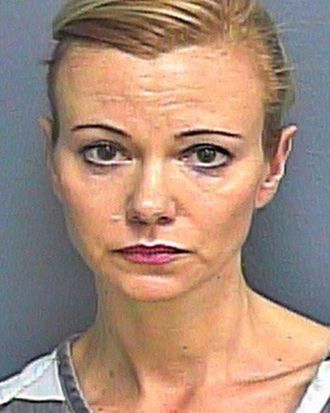 Photo: Sevierville Police Department
Back in May, restaurateur Sarma Melngailis — former owner of the now-closed vegan hot spot Pure Food and Wine — was caught by police after several months on the lam. She disappeared back in August after employees accused her of not paying them; it was soon discovered that Melngailis had stolen millions of dollars from the restaurant and was facing grand larceny and fraud charges. Melngailis was eventually done in by a Dominos order placed by her then-husband Anthony Strangis — and, it seems, he may have been responsible for her whole downfall.

A new story from Vanity Fair looks into how Melngailis went from a celebrated vegan restaurateur to a woman facing 15 years in prison, with Melngailis's camp firmly pointing the finger at Strangis.

Strangis and Melngailis initially met on Twitter; he had been interacting with Melngailis's friend Alec Baldwin before moving on to her. She was smitten, though they couldn't be more different (he wasn't even a vegan). Strangis's ex-wife, a woman named Stacey Avery, points to a past of suspicious behavior: In the early aughts, Avery says, he impregnated her, said he was set to inherit $5 million, pawned her jewelry and electronics, and then abandoned her and their child.

Melngailis's camp points to similar scamlike behavior, saying "Strangis resorted to cult-like techniques, including gaslighting, sleep deprivation, and sexual humiliation, to control her." He allegedly forced her to endure several "cosmic endurance tests," like lending him money and giving him oral sex while blindfolded, with the promise that it would pay off for her:
"He convinced me I'd be empowered in ways I couldn't imagine," Melngailis explained. "I would have access to unlimited resources so that I could grow my brand all over the world, make the documentary I always wanted to make — the one that would finally change people's ways and help eradicate factory farming. Basically, I could do all the world-changing things I'd been quietly dreaming about. I could help whoever I want, and stay young forever doing it."
He was also said to have used Melngailis's beloved dog, Leon, as a way to convince her to do what he wanted:
They'd all been headed toward one another for a thousand years, through past lifetimes, and if she did as he said, "among the things I'd be granted," Melngailis said, "Leon would also be immortal and safe to be by my side for eternity.
Along with becoming more controlling, Strangis is said to have become more involved in the restaurant, reportedly stealing thousands of dollars at a time. His attorney denies all the claims made by Avery and Melngailis's camp, while Melngailis's lawyers are thinking of utilizing a coercive control defense (which is described as "a form of domestic violence that can manifest as a cult of one, with a spouse as brainwashed follower"). Melngailis divorced Strangis in August, and, barring any plea deals, her trial will begin in early 2017.