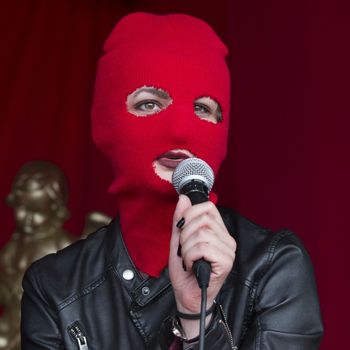 Pussy (Riot) grabs back.
Photo: VINCENT JANNINK/AFP/Getty Images
Pussy Riot roared back onto the scene last month with an anti-Trump music video called "Make America Great Again," which imagines a dystopian future where Donald Trump wins the 2016 election and takes office. Chances are high that the Russian Guerrilla Girls have a lot more to say about the matter now that we're living in that reality, especially given the president-elect's chumminess with their old nemesis, Putin. So, why not perform at Art Basel Miami Beach? The moneyed, chic affair is the perfect place for balaclava-clad feminists to make a scene.
Hole Gallery has invited Pussy Riot to grab back during Art Basel, but there's a small catch. The gallery is looking for sponsorship deals starting at a minimum of $10,000 in order to pay for the event. In exchange, sponsors will receive "extensive media coverage."
Art Basel Miami Beach begins this week, so bust out your checkbooks now.