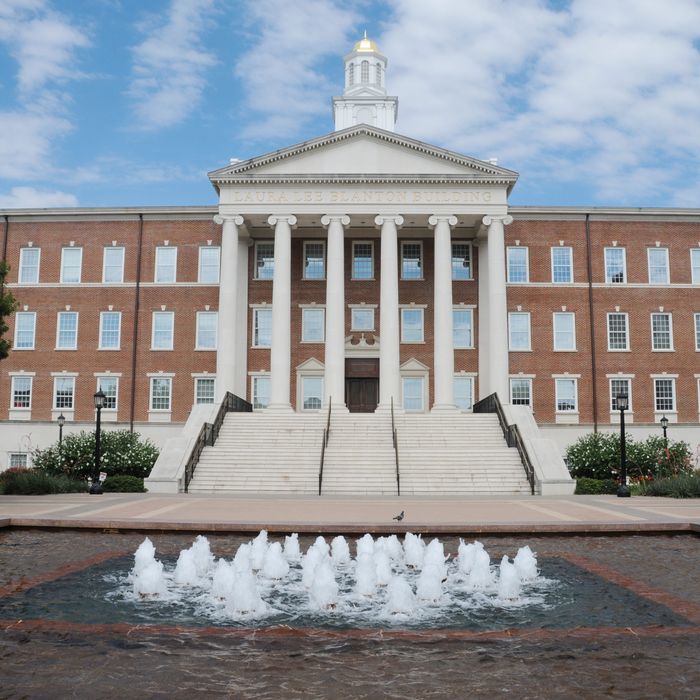 Southern Methodist University.
Photo: Picasa/Moment Editorial/Getty Images
On Sunday morning, multiple racist flyers titled "Why White Women Shouldn't Date Black Men" were found on Southern Methodist University's Dallas campus. Adding to the surge in election-related hate crime and harassment after Donald Trump won last week's presidential election, the handout lists reasons like "He's much more likely to abuse you" and "Your kids probably won't be smart."
Posted in two residence-hall stairways, the flyer notes "horrific and sadly predictable" crime stories involving interracial couples as "evidence" before closing as alt-right propaganda: "Take the Red Pill and meet the Alt-Right at RadixJournal.com," the last line reads, referring to the white-nationalist blog run by Richard Spencer. Twitter suspended the accounts of both Radix Journal and Spencer on Tuesday in an effort to stop hate speech purported by several accounts associated with the alt-right movement.
This same flyer recently appeared on two other campuses — at the University of Oklahoma on Monday, and at the University of Michigan in September. In a statement released Tuesday, SMU condemned the flyer's hateful propaganda and said a university investigation is underway. "These messages have no place at SMU and are in opposition to SMU's values and commitment to an environment free from discrimination," the statement read. It said the school's Office of Multicultural Student Affairs held a meeting for concerned students after the incident and plans to meet again.
SMU's campus newspaper reported that some SMU students responded to the incident by posting their own "We're Better Together!" flyers in support of diversity. "I think it is important to show that we do not accept this," one student explained. "And there are students on this campus that will take action."