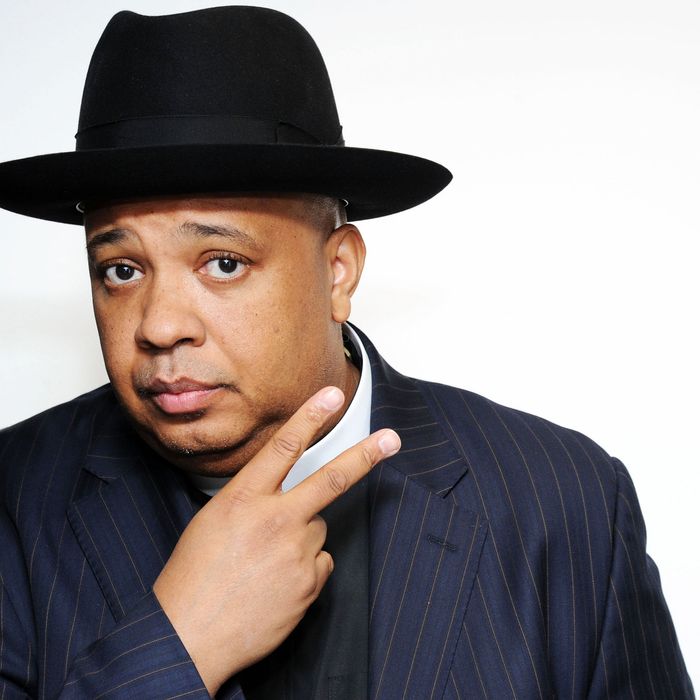 Joseph Simmons, a.k.a. Rev Run.
Photo: Ilya S. Savenok/Getty Images
Joseph Simmons, a.k.a. Rev Run, co-founded Run-D.M.C. and is now an author and practicing minister. He and his wife, Justine, appeared with their six kids on Run's House on MTV from 2005 to 2009 and now have a Cooking Channel show, Rev Run's Sunday Suppers. The couple both have a family history of diabetes and are working with Novo Nordisk during National Diabetes Month to urge people to learn about their risk of diabetes through its Ask.Screen.Know campaign. He talked to the Cut about cooking, counting his steps, and why he always has grapes at home.
How I start my day: I have to have breakfast. I was away with a friend recently and two mornings in a row he didn't eat breakfast. I get cranky if I don't eat breakfast. It definitely bothers me. It doesn't have to be a lot — egg whites and a piece of toast? I'm happy. It gets my day started.
How I like to sweat: We have a gym that the whole family's connected to. My son Russy plays basketball at the gym, so I'm there every day with him. Every day I'm walking, I'm on the treadmill, and they got the TV and I can just watch shows.
On fitness trackers: I have this little stepper thing on my phone and if I'm not at about 8,000 steps a day, I'm bothered.
On his fitness-obsessed son: Daniel's like Arnold Schwarzenegger and Dwayne the Rock Johnson. It's beyond belief. He's the food police. He mostly eats broccoli, chicken, brown rice. Even his pasta is brown-rice pasta. He goes hard. So we have food police in the house, which is helpful, actually. We went out to eat the other day and I took him to his favorite place and I ate salmon and brown rice and I was happy. It's a family affair.
On having a family history of diabetes: I came to realize that if it runs in the family, you could be at risk. Being African-American put me double at risk, being over 45, [too]. Knowing that if my dad had [type 2 diabetes], it could be coming at me. l learned what I can do to prevent it or if I end up developing it, to know that I can live a healthy life as long as I exercise and eat right most of the time. You know I always give out these words of wisdom, and it became my focus to start talking more about health.
How I eat now: We do un-fried chicken, we make Brussels sprouts so they're crisp and they're good. If you cook them the right way and put the smoked paprika on them, they taste good. We've found many ways that we can eat right and not lose the deliciousness. That's important.
How I deal with my sweet tooth: I keep little chunks of watermelon in the house. And grapes. That's something we didn't do before. Some people always had fruit, we were not fruit people. Now we've got a bowl out, and cold grapes, watermelon, and bananas in the refrigerator. So if I'm sitting there in the middle of the day or the end of the night when I get a little hungry I'm like, "You know what, I'm going to eat a banana." Instead of reaching for cake or something.
My Thanksgiving advice: I'm telling people, "Yeah, have a good Thanksgiving, but maybe go a little heavy on the string beans and lighter on the gravy."
How wellness has changed for me: When I was younger I was just having fun. I didn't even know I was "walking," I was just playing basketball, doing what I do. It wasn't on my mind, I was just naturally young and healthy. As you get older things change. Now, it's more about health than anything. Obviously, we all want to look good but health is the first wealth. You can't have no fun without health.
This interview has been condensed and edited.