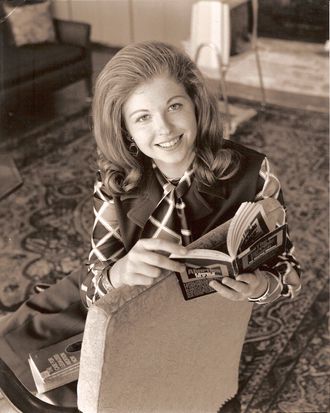 Sarah Weddington in 1970, after her initial Roe v. Wade win in Texas federal court.
Photo: Courtesy of Sarah Weddington
After graduating from the University of Texas Law School in the mid-1960s, Sarah Weddington interviewed for a job at a prestigious law firm. A sharp legal mind, she aced the first interview in Austin, and was asked to come in for a second interview at the main office in Dallas. But because she was a woman, and not the male candidate the firm was looking for, Weddington was initially told she'd have to fund her own way to Dallas. Once she finally made the trip, however, the young lawyer was discredited on the basis of her gender.
"They basically said, 'Well, we think you'll be a real good lawyer and you've got very good recommendations, but we're just a little hesitant about this,'" Weddington told the Cut. "But sure enough, several of the men in my class got those jobs but I didn't, and I never forgot that."
The fateful interview ended up altering the course of Weddington's life — as well as the lives of millions of women in the United States. Propelled by her anger over the blatant sexism she faced, Weddington took a job at her law school and became involved in a women's advocacy group in Austin. Shortly thereafter, at the age of 26, Weddington became the youngest person ever to argue in front of the U.S. Supreme Court, when she represented Norma McCorvey — otherwise known as Jane Roe — in the landmark 1973 case Roe v. Wade, which legalized abortion across the country.
Now, at age 71, she finds herself in a precarious position. Since her work in Roe v. Wade, she's gone on to serve three terms in the Texas House of Representatives, worked as general counsel for the Department of Agriculture, and acted as special assistant to then-president Jimmy Carter. She was instrumental in convincing Carter to appoint Ruth Bader Ginsburg — whom she knew from women's liberation activities — to the federal bench, which paved the way for then-president Bill Clinton to later appoint her to the Supreme Court. In other words, she's dedicated her entire adult life to being a champion of women's rights — only now, so much of what she's accomplished is under threat.
President-elect Donald Trump has said that he will appoint pro-life justices to the Supreme Court, who will potentially overturn Roe v. Wade and allow states to again set their own abortion laws. It's the first time that Weddington has seen such a severe threat to the abortion rights she fought to secure. "I am so determined that when we talk about women having the right to make decisions about their own lives, that abortion and reproductive issues are one of the things that most determines a woman's future and options in many ways. I am so determined that Roe v. Wade be upheld," Weddington told the Cut.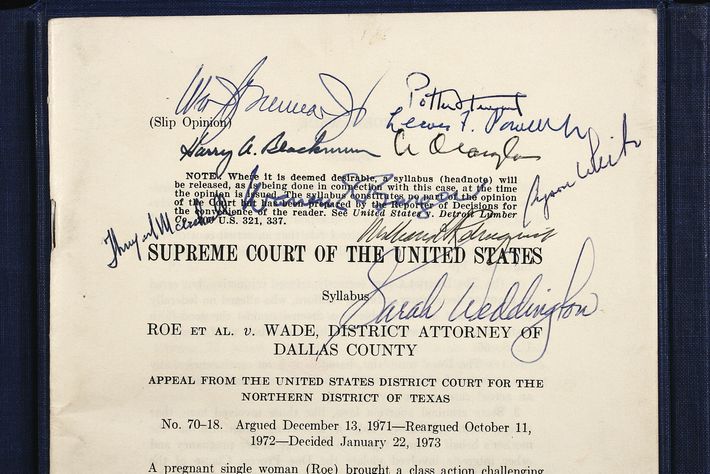 When Weddington first became involved in women's advocacy in the late 1960s, abortion was illegal in most states. Groups of like-minded people — "We just called it 'women's lib'" — would fundraise and organize trips for pregnant women to go to clinics in New York, California, and Colorado, where abortion was legal. Members of those groups living in states where abortion was illegal were under constant threat of arrest for facilitating the procedure. However, the success of Griswold v. Connecticut gave Weddington's group an idea. The 1965 Supreme Court decision ruled that access to contraceptives was protected under the right to privacy — couldn't the same be said for abortion?
Weddington recruited a friend from law school, Linda Coffee, to join as her co-counsel, and together they represented Norma McCorvey, a pregnant woman who agreed to serve as their lead plaintiff. The pair of young and inexperienced attorneys soon found themselves arguing, and winning, their case in front of a three-judge federal panel in Texas. However, the Dallas district attorney — Henry Wade — refused to comply with the ruling that had made abortion legal in the state, which paved the way for the case to go directly up to the U.S. Supreme Court.
At the time, the Supreme Court bench was not full, and there were only seven justices, as opposed to nine. "You had a situation much like we have now, except it was two people who had died or retired," Weddington said. She argued the case once in front of the seven-justice panel in 1971, but was then asked to re-argue the case after two more judges were appointed in the fall of 1972. However, the decision wasn't made public until January 1973.
By the time the opinion was released, Weddington had already become the first woman elected to represent Travis County in the state legislature — she ran on the off-chance the court decided against Roe, in which case she'd instead have to try to change the law in the legislature. On January 22, a reporter called Weddington's assistant and asked if she had a comment on the ruling, which Weddington hadn't even been made aware of yet. The reporter informed her that the justices ruled 7-2 in her favor and that she had won, and later Weddington received a telegram informing her that the opinion would be mailed to her shortly thereafter.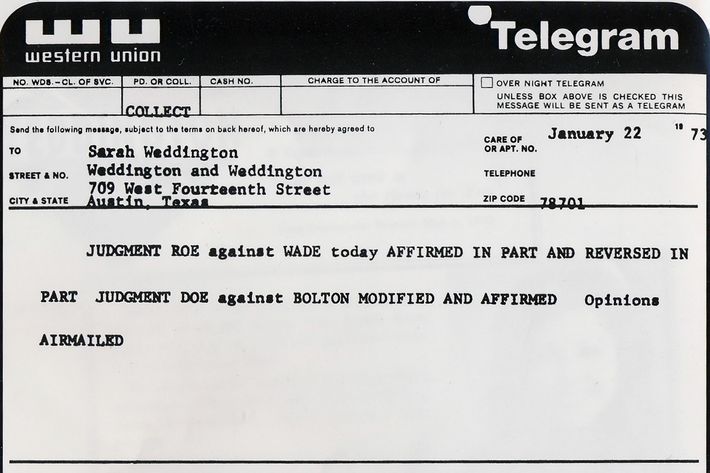 Though it took months for the case to be decided, the law was instantly changed — "like a lightning strike" — as soon as the opinion was released. "Here in Austin, there was a doctor who had gotten the equipment to do abortions and he hadn't done any because of the Texas law," Weddington said. "But once Roe v. Wade was decided, he had one of his patients who happened to be a professor in the nursing school here at UT who was leaving that afternoon to go to California to get an abortion. He called her and said, 'Wait, you don't have to go to California. I can do it for you here in my office.' So she came in that afternoon and he did her procedure. That's how quick the change was."
Since then, Weddington has seen Roe v. Wade be contested time and time again in the Supreme Court, though it has always been upheld. She worries, though, what might happen if Trump succeeds in appointing two or three more justices, and also fears what may happen if abortion laws are once again decided by individual states. Trump has said, if that were to happen, women could merely cross state lines to get the procedure. But Weddington remembers what it was like for women to have to fund their own trips to get an abortion — and knows that not everyone can afford to travel great distances to abort an unwanted pregnancy.
"For a lot of us who have been pro-choice through the years and have been involved in trying to keep it so that women have that choice, I think it's really frightening, because it's not immediate. Right now, nothing has changed. The president is opposed to abortion, but the law has not changed yet. And so once Trump is president, and once Pence does occupy the [president of the Senate's] chair, then you've got the possibility for dramatic change," Weddington said.