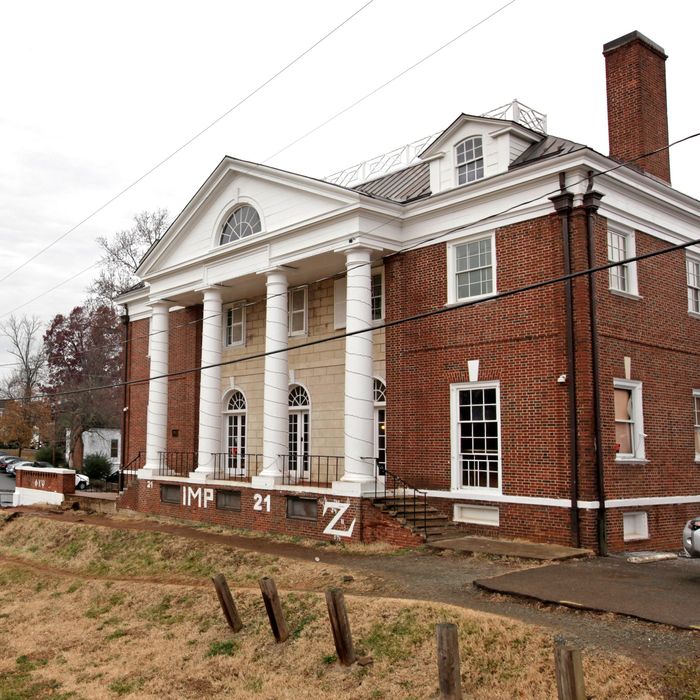 University of Virginia's Phi Kappa Psi fraternity house, which was named in the discredited Rolling Stone article.
Photo: Jay Paul/Getty Images
Rolling Stone's discredited and retracted story about a campus rape at the University of Virginia is costing the magazine a pretty penny. After deliberating for less than two hours, a jury on Monday ordered the magazine and the article's reporter to pay $3 million in damages to a university administrator.

The jury previously found that the parties involved in the story's production were all liable for defamation for recklessly publishing an article without properly reporting it. The jury decided Rolling Stone and its parent company, Wenner Media, were liable for $1 million while the article's author, Sabrina Rubin Erdely, was liable for another $2 million. Under Erdely's agreement with the magazine, though, the companies are obligated to cover "all liability arising out of the article," a lawyer for Rolling Stone told the New York Times. Nicole P. Eramo, the UVA administrator who filed the defamation suit, initially asked for $7.5 million in damages.
Eramo's lawyers argued that, in the now widely discredited story about a gang rape on the UVA campus, Eramo was portrayed as an overly unsympathetic character who was made out to be the "chief villain," according to the Times. In one portion of the article, Eramo was quoted as saying, "Nobody wants to send their daughter to the rape school," as a reason for the school not doing a better job at reporting sexual-assault data. To be found guilty of defamation, a publisher must have acted with "actual malice," which means it knew that the details it was publishing were false or it acted with a reckless disregard for the truth. In its decision, the jury didn't make a distinction with regards to how much of the damages resulted from the article itself, and how much of the damages were a result of the comments Erdely and Rolling Stone made after the story's publication.

Rolling Stone hasn't yet announced whether it will appeal the decision. In the meantime, though, they also have to gear up for another lawsuit that's awaiting trial: The fraternity at the center of the retracted story also filed a $25 million lawsuit last year.