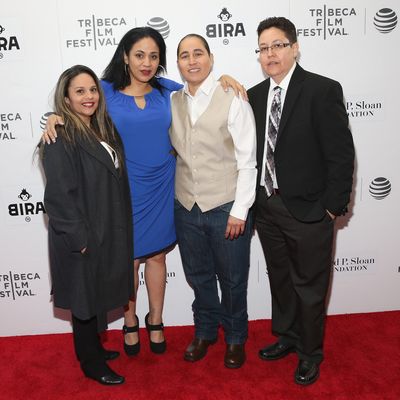 The San Antonio Four.
Photo: Robin Marchant/Getty Images for Tribeca Film Festival
The four women simply known as the San Antonio Four were fully exonerated of charges by the Texas Court of Criminal Appeals on Wednesday.
Elizabeth Ramirez, Cassandra Rivera, Kristie Mayhugh, and Anna Vasquez were accused of sexually assaulting Ramirez's nieces, who were 7 and 9 at the time; their identities as lesbian Latinas and certain descriptors of the alleged assault triggered a toxic combination of homophobia and Satanic Panic that landed all four in jail in 1997 and 1998.
The San Antonio Four's fight for exoneration, with legal assistance from the Innocence Project of Texas, ware the subjects of Deborah Esquenazi's documentary Southwest of Salem: The Story of the San Antonio Four. According to an official statement, "The documentary, along with articles written in Rolling Stone, The Texas Observer, and the New York Times, was cited in the opinion section of the court's decision."
Esquenazi added, "This is a stunning victory, not only for the San Antonio Four, but for gay rights. I couldn't have imagined that six years ago, with nothing more than a camera and shoe-leather journalistic persistence, that this day would come. It shows the power of art. It shows that even with no cultural capital, power, or resources, we can make great change."