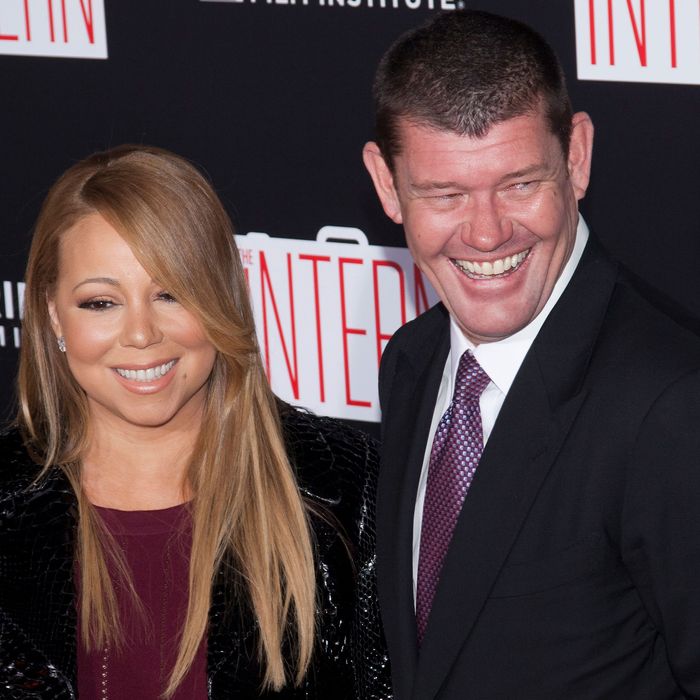 Photo: © LAN/Corbis via Getty Images
Last week, it was reported that Mariah Carey and fiancé James Packer had called off their engagement, with a myriad of theories surfacing immediately — including that Carey was too much of an "extravagant spender" for Packer and that Packer wasn't in a "mentally healthy place." The most recent one? That it was all Scientology's fault.

Packer was a Scientologist from about 2002 to 2006; his business manager, Tommy Davis, was once the spokesperson for the Church of Scientology. "Page Six" reports that sources say Carey thinks that Davis "poisoned" the relationship she had with her ex-fiancé, and there is talk of Packer being told to "disconnect" from Carey by Davis.

Per one source:


"Mariah and James were looking at homes in Beverly Hills to buy together in August, everything was fine, he was saying she was his soulmate, and he couldn't wait to marry her. Then suddenly he changed. In September, James suddenly seemed not like himself at all. Mariah is suspicious of Tommy, who has been managing James' finances, and she suspects he is controlling him."

The last time Carey and Packer saw each other was on Packer's yacht in Greece (but of course) in mid-September — at which point Carey reportedly asked him, "What is going on, are you back in Scientology?"

Meanwhile, sources on Packer's side told "Page Six" that Davis wasn't even there for the yacht trip and that Packer is definitively no longer a part of the Church.

Carey is reportedly seeking $50 million in the breakup. No word yet on whether or not she qualifies as a Suppressive Person.