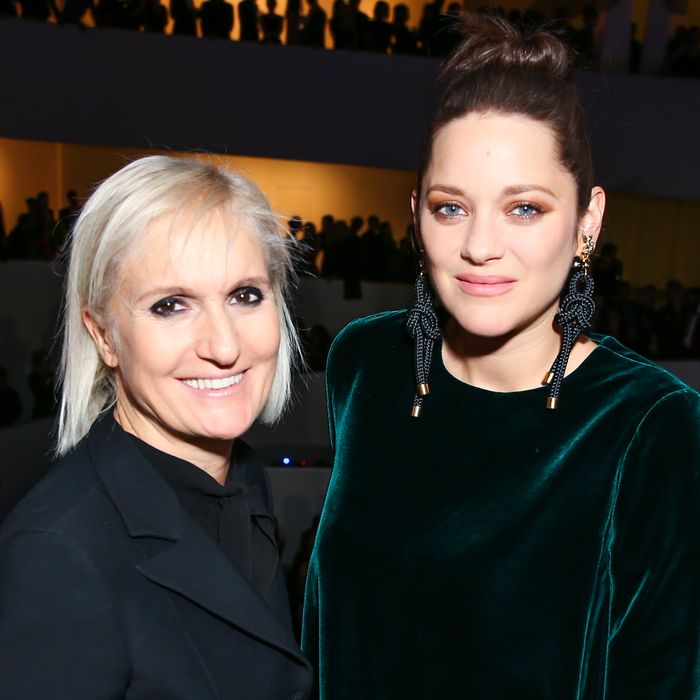 Dior artistic director Maria Grazia Chiuri with Marion Cotillard.
Photo: David X Prutting/BFA.com/David X Prutting/BFA.com
Inside envelopes in which invitees were addressed as Madame or Monsieur in immaculate, romantic penmanship was the golden ticket for last night's Guggenheim International Gala pre-party hosted by Dior. Maria Grazia Chiuri, the first woman to be named artistic director of the French fashion house, co-chaired the event with Dior Couture's chief executive, Sidney Toledano. "It's a big responsibility!" laughed Chiuri of her aptly buzzed-about job, moments after she was escorted from the step-and-repeat.
A "Chiuri x Dior" Google search results in headlines like "Maria Grazia Chiuri Makes a Feminist Statement at Her Dior Debut" and "At Dior, Feminism Under the Spotlight." As for how Chiuri herself sees it all? "For me, the message is women are to learn and to look at themselves with their eye. And that's important for me, because I want them to feel free to be how they prefer to be. … But this is not only for women, it's also for men!" Which makes sense, considering this is the woman who designed the WE SHOULD ALL BE FEMINISTS T-shirts that got everyone in the industry talking after her Paris show.
Choosing shadowy pop musician BANKS as the evening's performer (alongside LCD Soundsystem's Nancy Whang as the evening's DJ) was a no-brainer for Chiuri, who says, "BANKS is cool, she's young, she's really modern, but at the same time, romantic," adjectives all very on brand for Chiuri's Dior. Around 10 p.m., BANKS theatrically ascended the tiny, red-lit circular stage clad in a witchy black tulle dress by Dior Haute Couture and a feather-heavy headband. (Think Christina Aguilera in the 2002 music video for "Fighter.")
While some Champagne-sipping/spilling socialites danced to BANKS's set, others glanced from above, lining the Guggenheim's spiraling rotunda. Future made the rounds in sunglasses. Marion Cotillard smiled behind a barricade of friends and security guards, wearing an emerald silk velvet dress (by Dior Haute Couture, naturally).
The event also celebrated the museum's current exhibition by the late abstract painter Agnes Martin. Chiuri said she "loves art and the special way this exhibition speaks about great women artists." She described the new job at Dior as a kind of liberation: "Now is another moment. You have to live in your moment. To be free about yourself is a good message for everybody."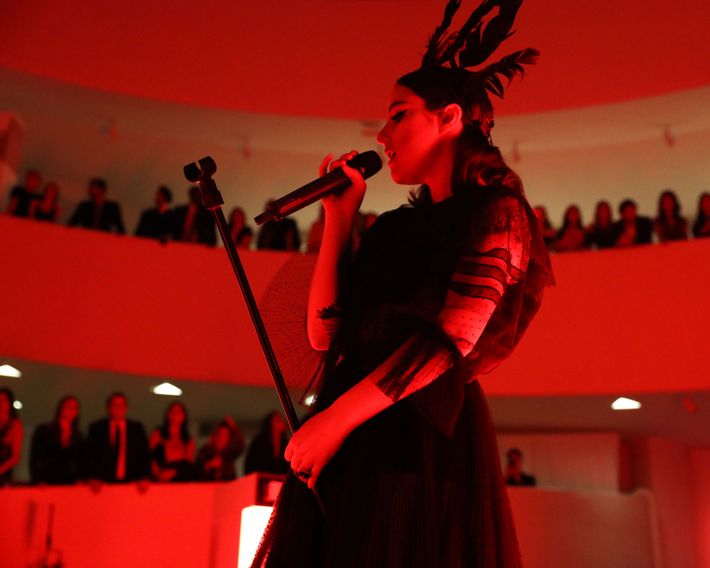 BANKS
What: Dress by Dior Haute Couture, shoes and headband by Dior.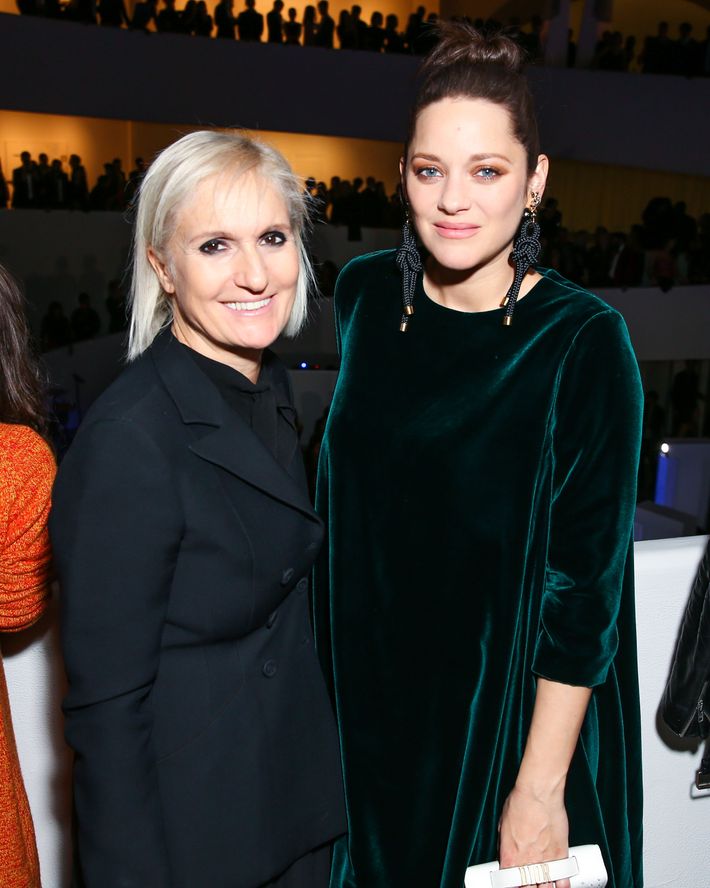 Maria Grazia Chiuri, Marion Cotillard
What: Cotillard wears a green silk velvet dress by Dior Haute Couture and boot and a clutch by Dior.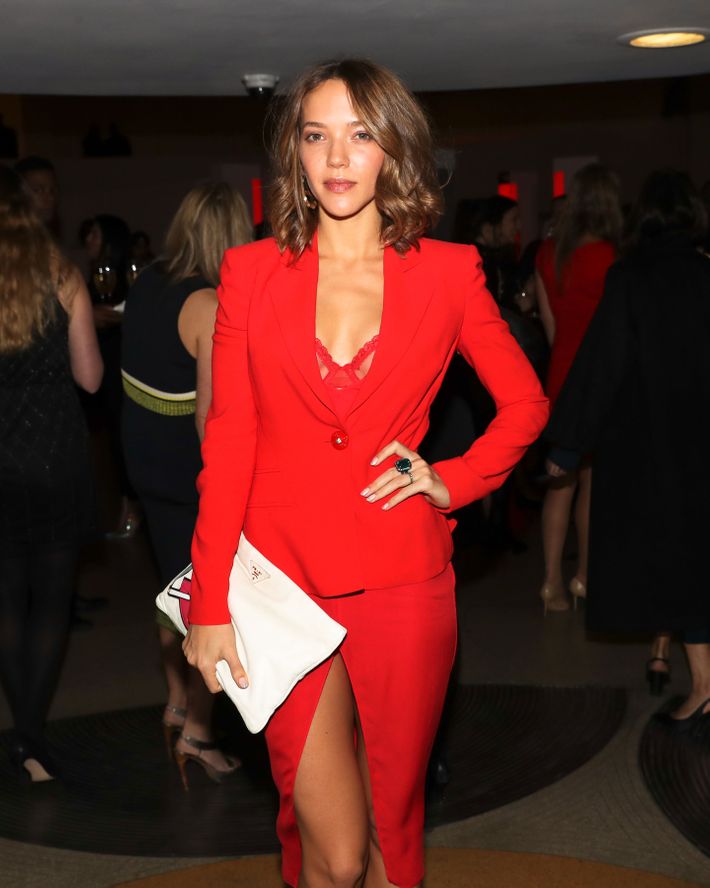 Zoë Buckman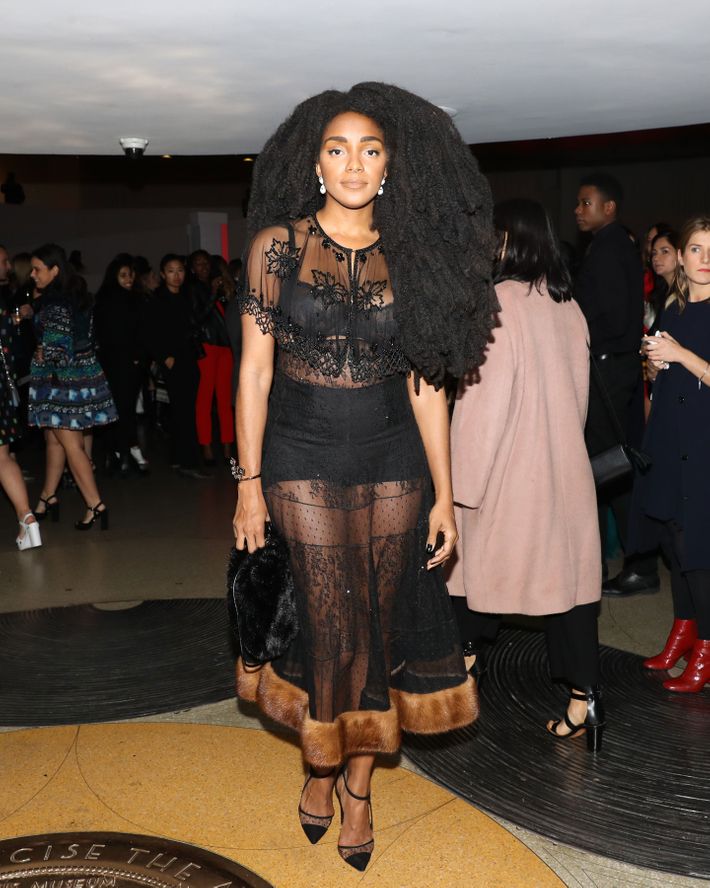 TK Wonder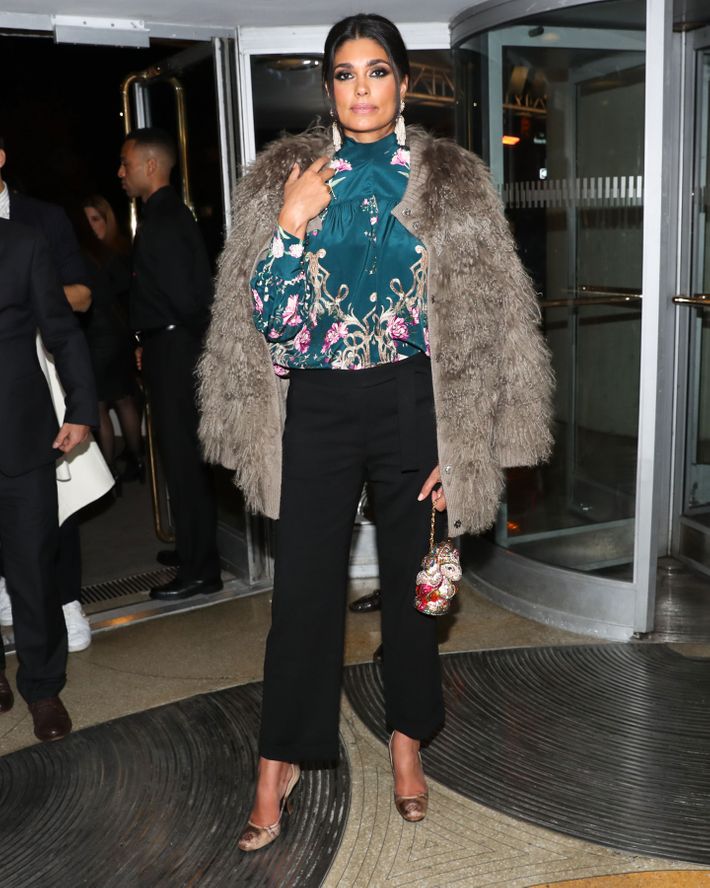 Rachel Roy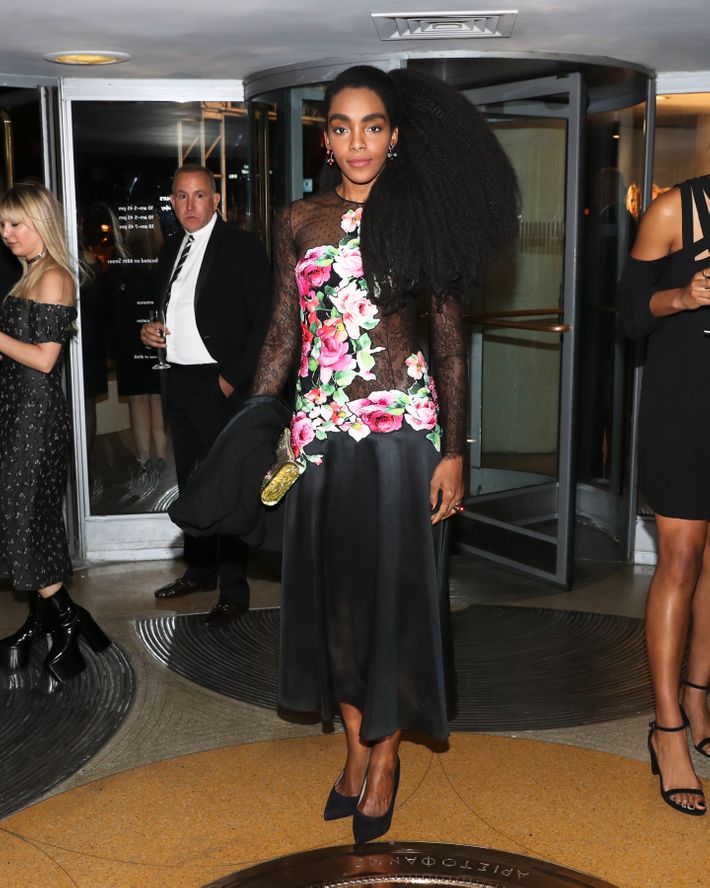 Cipriana Quann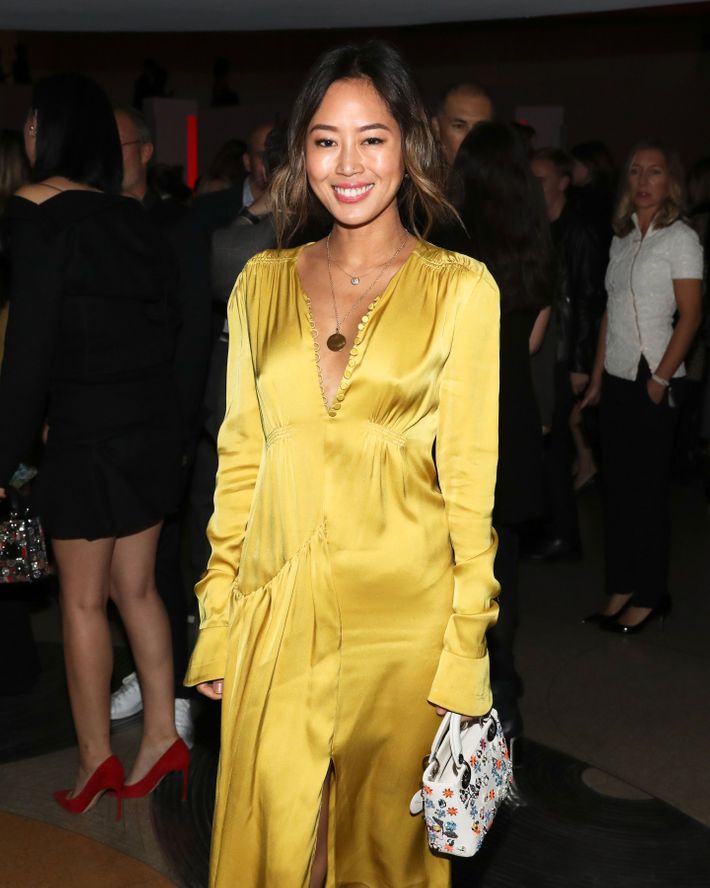 Aimee Song
What: Yellow silk satin dress, shoes, and bag by Dior.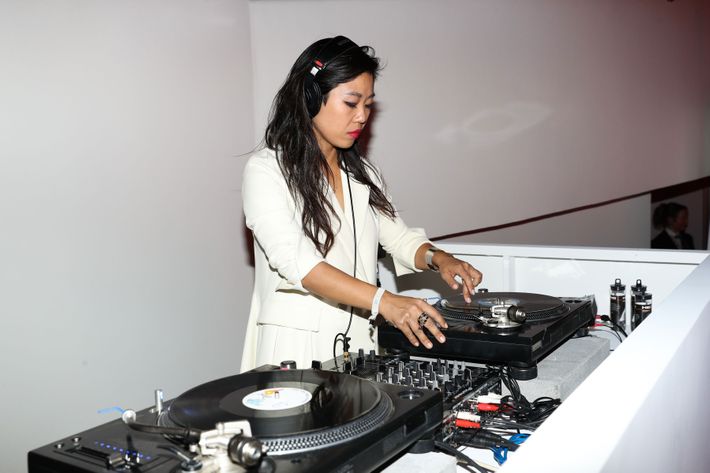 Nancy Whang
What: Bar jacket dress by Dior.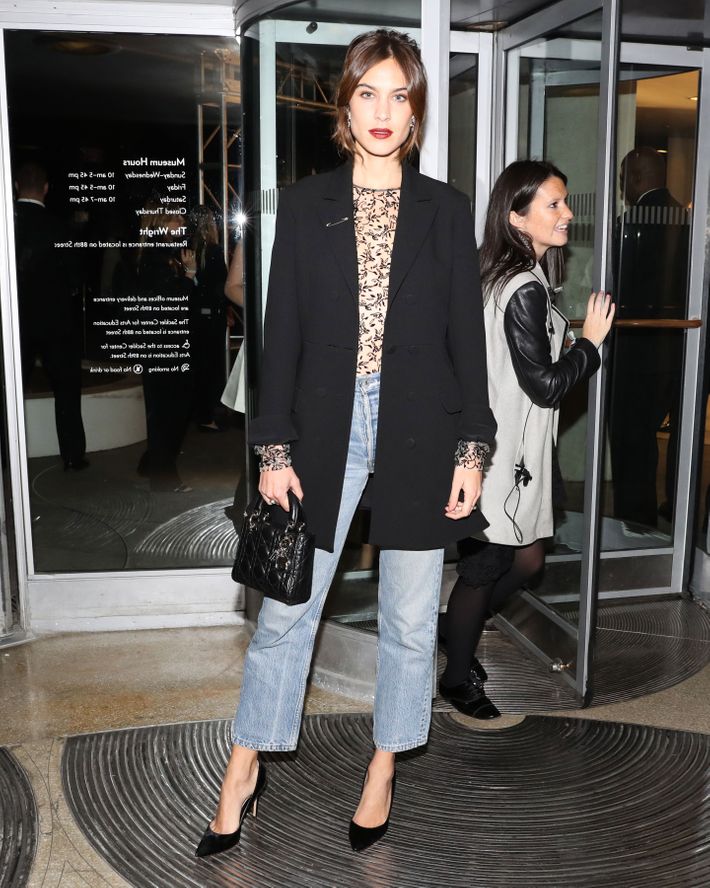 Alexa Chung
What: Top, wool coat, and bag by Dior.