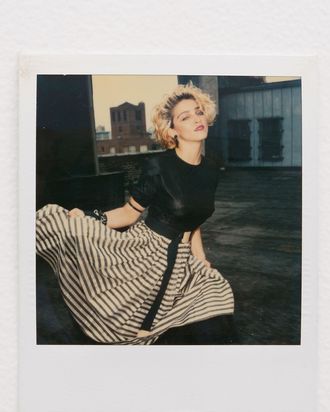 Photographer Richard Corman met Madonna in 1983, just after he'd finished an apprenticeship with Richard Avedon and three weeks before she released her eponymous début album. The two were introduced through Corman's mother, who had cast the singer as "Cinde Rella" in a rock-music movie satire that, ultimately, was never produced.
Corman first photographed Madonna at her brother's apartment in New York City, where the rising pop star lounged in ripped jeans and posed dramatically on the rooftop. One year later, in a wedding dress and white gloves, Madonna would famously perform "Like a Virgin" at the MTV Video Music Awards. Corman has since photographed public figures like Nelson Mandela, Robert de Niro, and Tilda Swinton, and worked with artists Jean-Michel Basquiat and Keith Haring before they were mainstream successes.
The limited-edition book Madonna 66, out today from publisher NJG Studio, features 66 previously unpublished Polaroids from Corman's first shoot with Madonna, in 1983. Click ahead to preview the book.