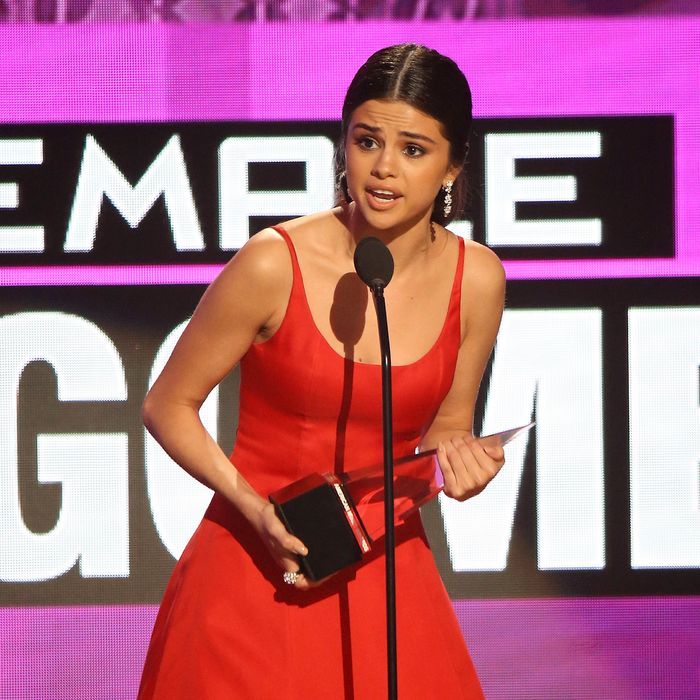 Selena Gomez.
Photo: Michael Tran/FilmMagic
Sunday was a good night for Selena Gomez. The pop singer made her first public appearance at the 2016 American Music Awards, after announcing earlier this year that she was taking some personal time to focus on her health. Gomez, with her millions of fans, presumably had at least some inkling that she might win something. After all, fans choose the winners at the AMAs. So it's little surprise that Gomez won the award for Favorite Female Artist in the pop/rock category. But it was Gomez's moving and sincere acceptance speech at the awards ceremony that reminded us exactly why she has all those fans to begin with. The girl has heart.
Gomez began her speech by declaring that the 2014 AMAs were the first time she was "authentically, 100 percent honest" with her fans. And no matter how she may have felt about it, a lot of people know a lot about her personal life. So "I had to stop," she said. "Because I had everything, and I was absolutely broken inside." Until her recent break from social media and the public sphere, Gomez had been very active and honest on social media and spoke publicly about living with lupus. Her break, she previously said, was meant to help her deal with anxiety and depression symptoms. And in parts of her speech on Sunday, Gomez's voice quavered a bit. She even mused aloud about how lucky she is to have her fans ("You guys are so damn loyal and I don't know what I did to deserve you").
In her short time away from the spotlight, it seems the pop singer has been doing a lot of self-reflection on what matters to her most. Just take a look at the rest of her speech:

"I don't want to see your bodies on Instagram, I want to see what's in here," she said, gesturing to her heart. "I'm not trying to get validation, nor do I need it anymore. But if you are broken, you do not need to stay broken. And if that's anything, whether you respect me or not, that's one thing you should know about me, is I care about people. Thank you so much, this is for you [the fans]."
Now, granted, musicians, actors, and all sorts of celebrities can get emotional when delivering an acceptance speech. Judging from those in the audience, though, Gomez struck quite the emotional chord.

Lady Gaga, for one, watched with bated breath.
And her fans, of course, were in her corner.

Watch the whole speech below: