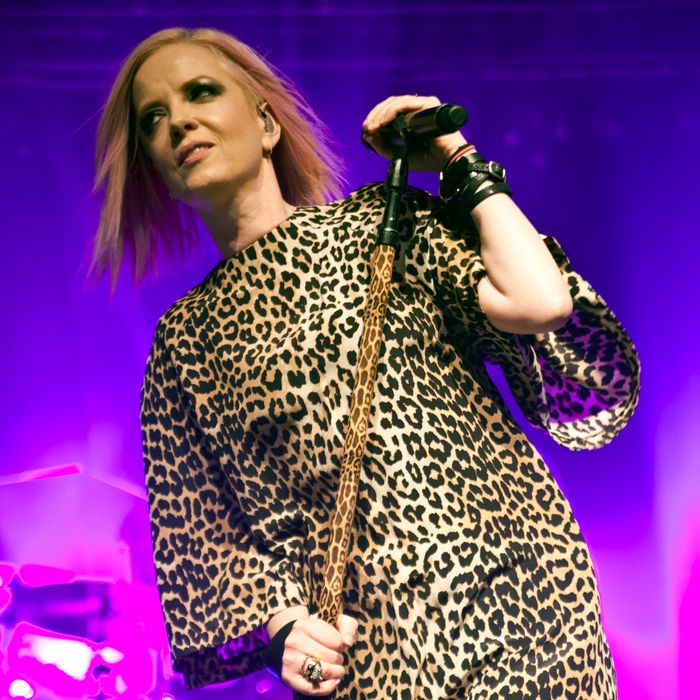 Photo: Jeff Hahne/Getty Images
Garbage front woman Shirley Manson is part of a growing movement of celebs and pop stars unafraid to talk about aging. Like Peaches Nisker, Manson is still kicking all the ass onstage and off, especially in interviews when it comes to the topics of feminism, beauty, and aging.
Manson sat down with ABC Australia's Leigh Sales during a stop on Garbage's world tour, and the pink-haired firebrand pulled no punches. "There's definitely a global movement towards eradicating women's rights across the globe," she said, adding that younger generations have gotten complacent, "not really understanding that human rights get eroded constantly and you always have to be really vigilant to make sure that these rights that women have fought so hard for remain in place." On the other hand, Manson points out that countless women are still out there "fighting every day," citing Michelle Obama, Serena Williams, and Grimes as particular inspirations.

Another issue Manson feels strongly about is the importance young women place on beauty, especially in the age of social media and racking up those Instagram likes. She offered these words of wisdom:
"Unfortunately, it's such an empty pursuit, really, to be told you're beautiful. It's kind of meaningless because there will always be another beautiful woman to follow, and I think women really need to shift their focus onto something that creates a foundation for them as they grow through life. Nobody stays young and beautiful forever; therefore, build a platform on which you can stand through storms."