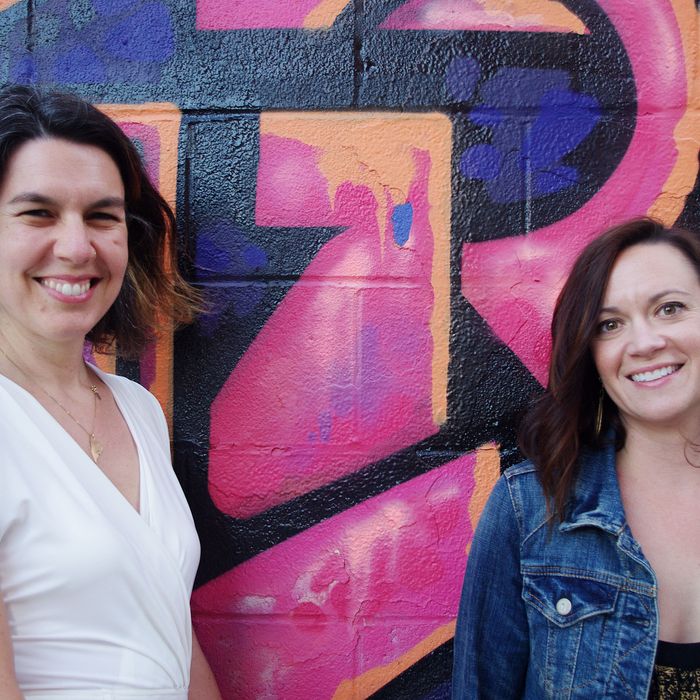 The Adulting School founders.
Photo: Benjamin Moore from Active Beer Geek and Chris Lowenstein
On the Sunday after the presidential election in the liberal enclave of Portland, Maine, I walked down State Street past St. Luke's Cathedral and the United Church of Christ to an unassuming music venue where congregants were engaging in a different kind of penance. A few dozen locals — mostly white, mostly wearing flannel shirts or printed scarves, mostly 26-years-old — had gathered for the first-ever summit on "adulting." Here they hoped to network with peers and learn the basic life skills (organizing, saving, making their own dental appointments) that they had yet to master. The conference, put on by Portland's recently opened Adulting School, promised to help each attendee start "adulting like a boss."
The Adulting School's founders, a local therapist named Rachel Weinstein and former public-school teacher named Katie Brunelle, had been planning the day for months. There were expert speakers offering presentations on subjects like time management and budgeting, but there was also a bar with craft beer and local wines. At lunch, a Japanese food truck rolled up with attendees' pre-requested orders. In the afternoon, we got cupcakes slathered with peanut-butter frosting.
Despite the promise of free food and booze, the mood when I entered the small box-office area to pick up my welcome packet was dour. For the first time in history, Maine voters had split the state's four electoral college votes between two candidates, giving one of them to Trump. When I sat down in the back of the small, hardwood-floored auditorium, I mentioned the election to my seatmate, a real-estate agent and conference sponsor named Elise Loschiavo. "People are reeling," she sighed. There had been protests and candlelight vigils in Portland throughout the week.
Still, the adulting had to go on. Attendees, who had each paid $30 for the all-day event, filled up about half of the 100-seat auditorium. A few trickled in late, during the first presentation on time management.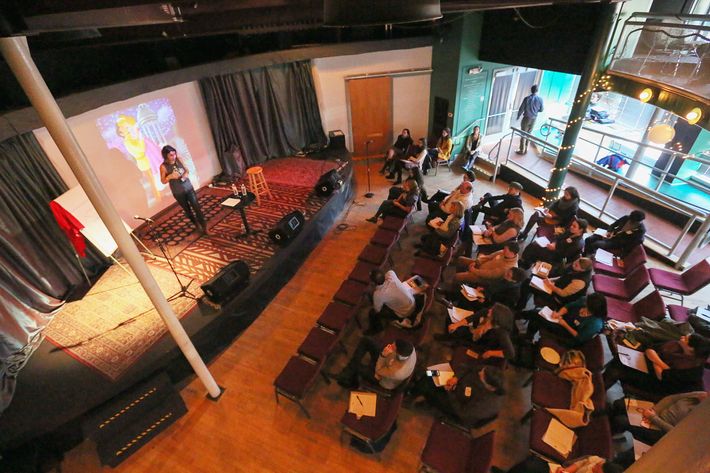 Weinstein and Brunelle launched The Adulting School in February to teach millennials how to be functioning grown-ups by showing up on time and paying their credit-card bills. Since then, they've hosted regular happy hours to tackle skills like cooking and networking, and built a pay-to-play online community featuring tips from adulting experts. The school's name references a lexical trend: since late 2015, on the internet, at least, adulting has come to mean behaving like an adult. BuzzFeed and Thought Catalog have published dozens of articles on the experience of adulting (12 Times Adulting Was Just Too Hard; Everyone's Obsessed With 'Adulting' and I'm Tired of Pretending I Give a Fuck), and brands like Target and Amazon have used the term in their advertising. Other institutions, like East Carolina University and MassMutual, have offered similar adulting classes.
"Adulting, that's something my friends sort of joke about, but there's a definite need right after college for some of these skills," a 24-year-old attendee named Ethan Palm told me during a break after a presentation on "Why side income is the miracle money solution." Palm works at a nonprofit, and he came to the conference to network, but he has plenty of friends who need to learn how to adult, he said. "A lot of people feel lost."
Erin Vogel, a shy, 25-year-old brunette wearing black-rimmed glasses, said she attended the summit because "my mom sent me the link."
In an age when home prices are rising and incomes are not, young people are postponing marriage and having children later in life. This leaves many twentysomethings without the traditional trappings of adulthood and without much of a roadmap for how to succeed on their own. Though "adulting" has always struck me (and plenty of others) as a too-cute encapsulation of this struggle, I found myself becoming more sympathetic throughout the day to young people who are just trying to figure out how to do their taxes. Millennials should learn basic accounting, and if they want to have a beer while doing it, okay.
Palm argued during our chat that "adulting" is probably more important now, with the looming threat of the Trump administration. "If you can square away your own financial responsibilities and obligations, then you will feel more comfortable contributing to something other than yourself," he reasoned. "And if you're in a position of feeling like a stable adult, hopefully you have the capacity to start to get involved with something beyond just yourself."
The presentations provided helpful, if not groundbreaking, information. A local financial planner delivered firm, calm directives like, "You need an emergency fund," while a group of wavy-haired girls in the third row nodded solemnly. Weinstein, wearing an Adulting School T-shirt cut off to reveal a large, heart-shaped tattoo on her upper arm, gave her own talk on healthy relationships, illustrating one point with a clip from Aziz Ansari's relatable Netflix program Master of None. People laughed, including one brave, bearded soul who had attended with his girlfriend. In the afternoon, a lawyer and dad wearing corduroy pants taught us how to meditate. It was all sort of like hearing the website Lifehacker read aloud.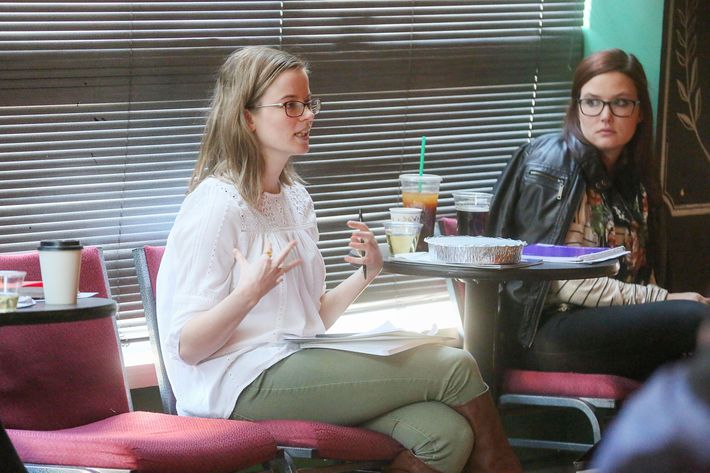 By 4 p.m., I was antsy to head to the airport and back home, where I had a dental bill I had been ignoring. Like a few other weary adulting students, I had quietly snuck out of the conference during the last session on "money myths." In the car on the way to the airport, I calculated how much extra cash I would have to donate, or to save in a shoe box for the apocalypse, if I paid off my remaining debt by the end of the year. On my phone, I typed up a budget, which I might start using next week.