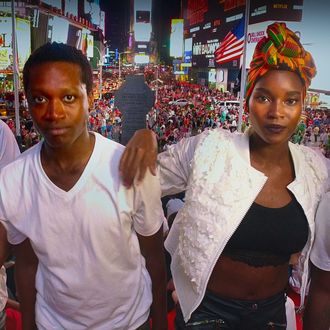 Still from Brave by Spike Lee.
Photo: Spike Lee
Brave, Spike Lee's new music video shot in collaboration with Moncler, is a tribute to the people of New York City. Shot in Lee's vibrant, frenetic style, the six-and-a-half-minute film opens with a shot of a young black man in front of the Statue of Liberty, as Lee reads the famous lines engraved on its base: "Give me your tired, your poor, your huddled masses, yearning to be free." The rest of the film is a city-wide dance party celebrating the diversity, grit, attitude, and energy of New York, set to the strains of the song "Brave, Suffering, Beautiful."

In an event celebrating the opening of Moncler's first U.S. flagship on Madison Avenue (a mere three blocks from Trump Tower), Lee — decked out in a Knicks hat and sweater, black puffer vest, and blue-and-orange Air Jordans — said the message of Brave was even more essential given the events of the past week.

"I think that it even shows how much greater New York City is. Even though Trump is from Queens, we don't claim him, he didn't win New York City. And the film is the opposite of what he's about, this film is about diversity. We're a people that came to this country, through immigration or through slavery like my ancestors. So this film is in total opposition to what Donald Trump represents to me."
The event was billed as a tribute to New York City, and the evening's décor certainly took on a patriotic bent. The new flagship is the French-Italian brand's largest store in the world, with two stories and 14-foot ceilings. On one wall, designer Thom Browne crafted a massive display of 28 one-of-a-kind Moncler duvet jackets, arranged in the shape of an American flag. Models Martha Hunt, Joan Smalls, and Hari Nef posed for selfies in front of the flag wall, while the rapper Desiigner held a Champagne glass aloft and Giants wide receiver Victor Cruz admired the merchandise. Various New York City socialites and fashionistas milled about, admiring the collection.
Lee said the partnership with Moncler came organically to him, as he has long been a fan of the brand and often visits its Spring Street location, and was looking for an excuse to use "Brave Suffering Beautiful" – from Stew and Heidi Rodewald's musical Total Bent — in a film. "I love New York City in the summertime," he said. "Summertime that was back in the day when parents didn't have to worry about their children, so as long as you came home before the sun went down, you were good. Summers back then seemed like they would never end."
But, amid all the star-spangled garb, it was difficult not to think of events taking place outside the sleek marble halls of Moncler, and Lee was more than happy to chat with me about last week's election results. "I'll quote the great Yogi Berra: 'It's never over til it's over,'" mused the director as he sipped Champagne. "And I think Hillary was doing a touchdown dance before they crossed the goal line. As a Little Leaguer, the first thing they're supposed to tell you is: You play til there's no time left on the clock. When you take something for granted in sports, you tempt the sports gods, when you take something for granted in politics, you tempt the politics gods. And Trump outworked Hillary Clinton."
Still, while Lee says he's worried about the future of New York City — particularly as gentrification shuts out young artists — he's not planning to stay silent creatively during the Trump administration. "I gotta think of something, because I've always felt that some of the great work of artists comes from very difficult times," he said. "So I think in these next — god willing, only — four years we're going to see some great films, plays, all types of stuff that addresses the world we live in now. Because when everybody woke up, there was a new world."

Watch the video below: