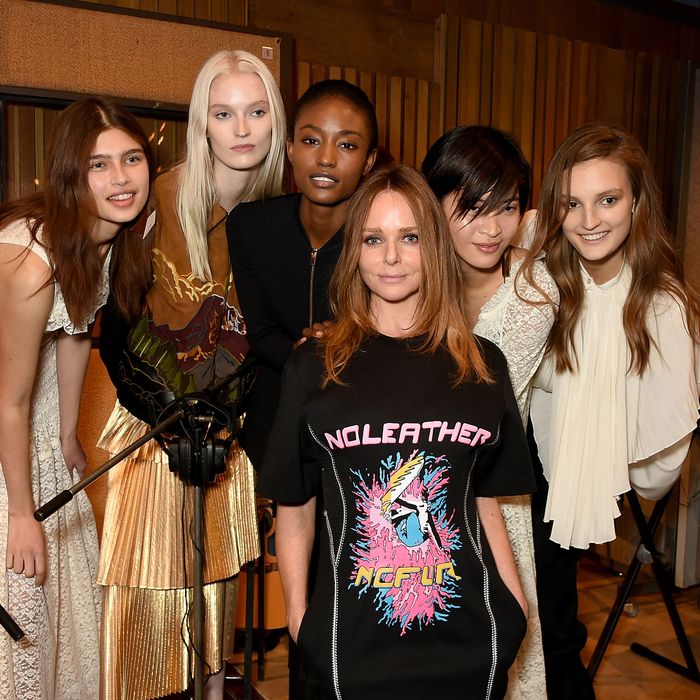 On any regular day in London, the pedestrian zebra crossing at Abbey Road in the St John's Wood neighborhood is lined with tourists who are eager to re-create the famous Beatles 1970 record cover, which pictures the iconic band members astride the black-and-white stripes a stone's throw away from their famous recording studio. Ask any taxi driver and they'll tell you that they purposefully avoid the route. Last night, however, a slither of male models in boxy jackets, silk shirts, cropped trousers, and leather-free sandals made their way across the landmark road and into Abbey Road Studios for a night of fashion and music hosted by Stella McCartney.
McCartney was celebrating the launch of her debut menswear collection, as well as the Resort presentation of her long-established womenswear line, and in true Stella style — remember those dancing models at her Paris Fashion Week show? — it was more of a music festival than a fashion show. Considering McCartney spent her formative years as a designer distancing herself from her iconic surname, it was a marker of her confidence that she directly celebrated her rock and roll heritage with a nod to her famous father. "I came here a lot as a child," she said upon arrival. "This place means so much to our family. I was on the phone to my dad earlier today and he was saying how he's been here since he was 20 years old."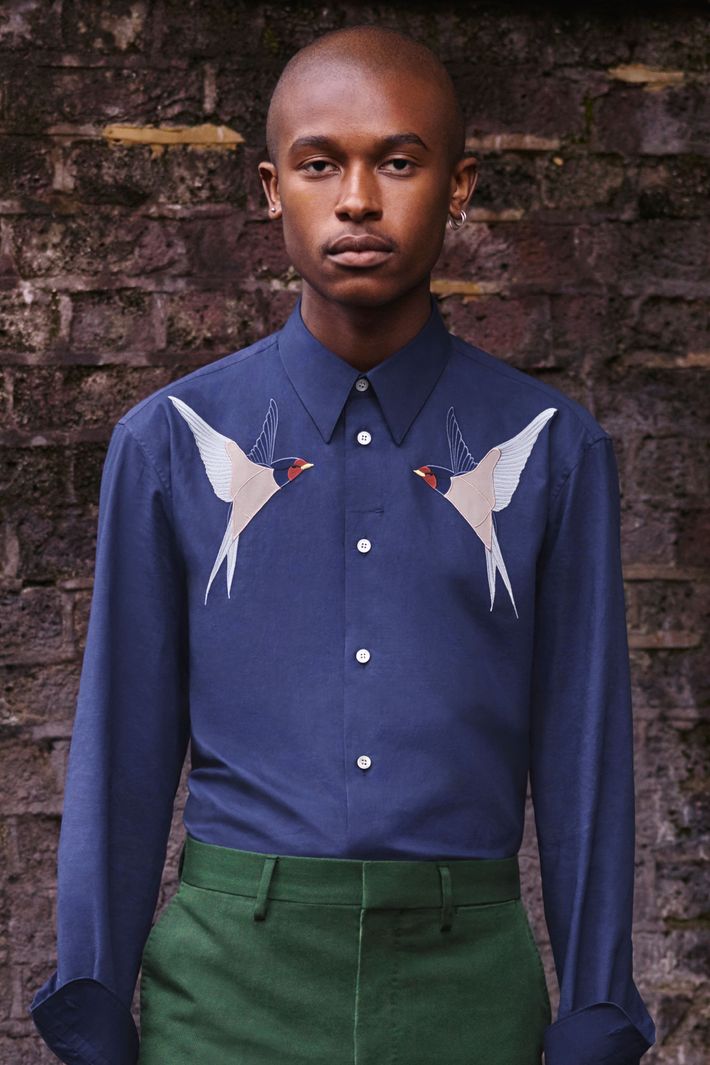 The designer was wearing a sculpted neoprene dress from her spring 2017 collection, which read "No Leather" and "No Fur." In wake of the last week, it seemed like a particularly apt moment for a message of protest. "It's about how, as a brand, we're cruelty-free and very responsible and sustainable and mindful," she explained. "We had in the menswear a slogan that said 'Members and Non-Members.' It couldn't be more right for now. Our arms are so open to everyone as a house — all sizes, all ages, all cultures; everything. It's very much about feeling the lurve."
With that, McCartney made her way inside to join her starry guests. Inside, Neneh Cherry and Paul Simonon kicked off the evening with a DJ set, while Orlando Bloom, M.I.A., Salma Hayek, Damien Hirst, Lucie de la Falaise, and Cillian Murphy sipped on flutes of Nyetimber, an English sparkling wine, and orange margaritas named after McCartney Sr. The space was filled with punchy neon "Stella" lights and playful dioramas of models in poster-clad studios, DJ booths, and green rooms, each one enjoying a cocktail and partial to one of the ginormous slices of "Stella McCartney pizzas" — margherita, of course — that were served from cardboard boxes customized with monochromatic prints of McCartney's face.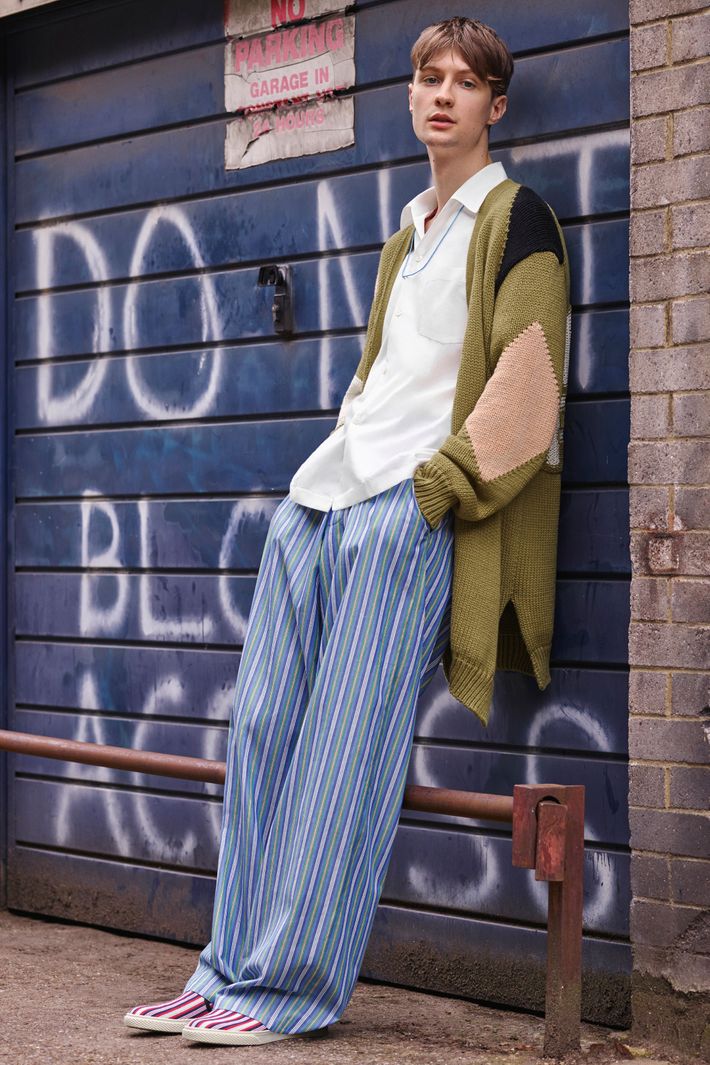 Outside, Kate Moss and Twiggy stood in the alleyway beside the building, having a cigarette and discussing their mutual passion for Ossie Clark and Bill Gibb dresses, many of which Twiggy owned in the '70s. "I just bought one of your old ones," enthused Moss, "a green and black one — for Lila!" Elsewhere, actress Anna Friel took a moment to ponder the appeal of McCartney's designs. "I don't know her particularly well, but I like that she is a strong woman with a strong voice," explained Friel, who was wearing a navy silk shirtdress with white piping, courteously lent by the designer. "Also, just look how cool her name looks. She doesn't even have to put McCartney next to it anymore!"
True to her word, both of McCartney's collections were mainly crafted from ecomaterials such as sustainable viscose, regenerated cashmere, organic cotton and denim, recycled nylon, sustainable wood and cork, and a type of synthetic leather they call "eco alter nappa." The menswear consisted of youthful tailoring in cobalt and embroidered black, chunky knits, cozy-looking track pants, psychedelic prints on silk bombers and shirts, and a mash-up of stripes, slogans, and checks. The womenswear was a variation on McCartney's favorite themes: gauzy blouses, chambray-denim dresses, sinuous knits, wittily printed silks, and statement jackets and coats.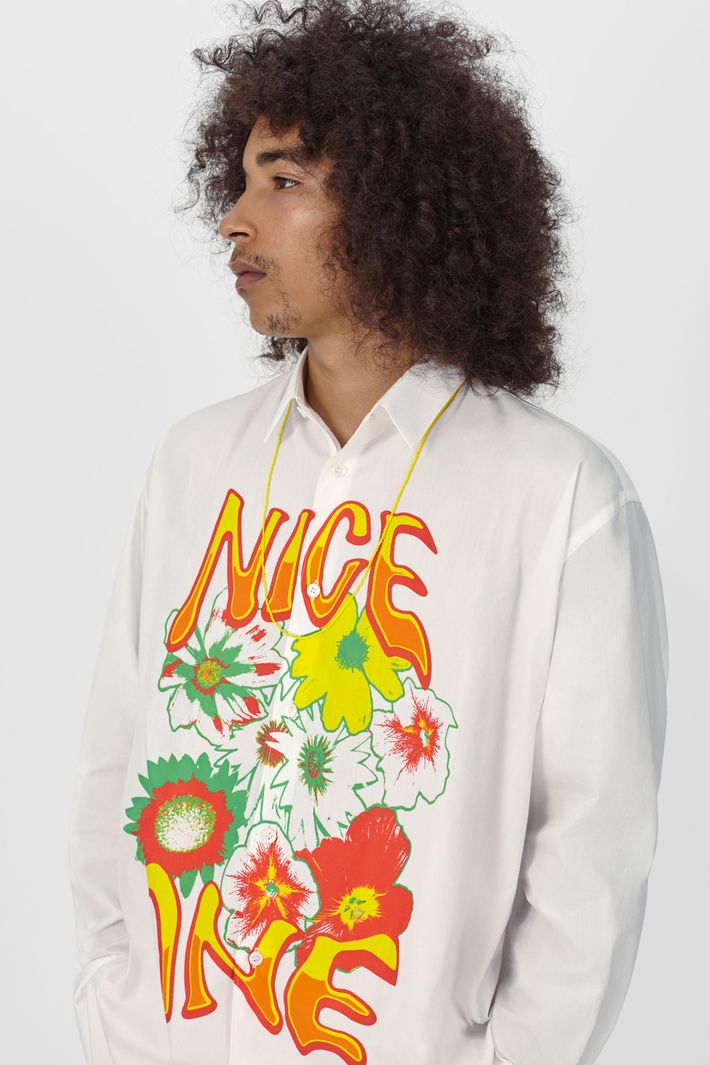 Eventually, the models stepped off their podiums to join the crowd as Beth Ditto took the stage in one of McCartney's new dog-print silk tunics to sing "Standing in the Way of Control" and David Bowie's "Let's Dance." She was followed by Sharleen Spiteri, in a swan-print silk gown, who gave the crowd a rendition of "River Deep, Mountain High" and Beastie Boys' Mike D, who performed the band's hit "Sabotage." "I got on a plane to come here and we had someone who was president that represented opportunity and I landed and what do we have?" he asked the crowd. "A fucked up president! It's interesting because now these lyrics to this song that is 20 years old fit this situation that is now."
Stella and her sister Mary were right at the front of the stage, excitedly waving their hands with when Darryl McDaniels (of Run-D.M.C) took to it to perform a roll call of the hip-hop group's greatest hits. "This is for you, Miss Stella," he announced. The McCartney sisters simultaneously let out schoolgirl shrieks. After all, you can take the girl out of music — but you can't take the music out of the girl.