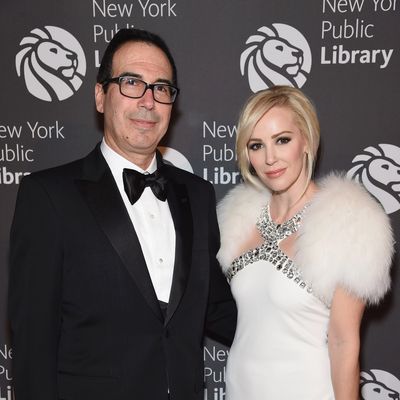 Steven Mnuchin and Louise Linton.
Photo: Gary Gershoff/WireImage/Getty Images
As of Tuesday, Steven Mnuchin — a former Goldman Sachs banker and a Hollywood financier — is Donald Trump's pick for Treasury secretary. He's helped to bankroll films such as Avatar and X-Men, but he also has personal ties to the film industry: He's engaged to Australian actress Louise Linton. So far Linton has mainly played small roles or starred in low-budget horror flicks, but she made a name for herself last spring when she self-published In Congo's Shadow: One Girl's Perilous Journey to the Heart of Africa.
The book is a memoir about Linton's time in Zambia, where she traveled to take a gap year in 1999 when she was 18. And just after it was published, it was uniformly shredded by critics for its "white savior" narrative. "She deploys, with maximum flourish, just about every lazy trope there is when it comes to writing about Africa," a Washington Post reviewer wrote.
In one passage, for example, she describes hiding from Hutu militiamen:
Gunshots echoed through the bush and seemed to be getting closer. I couldn't imagine the awful, sporadic acts of violence that were being committed as the village was ransacked. Fear and anger for the children consumed my thoughts … As the night ticked interminably by, I tried not to think what the rebels would do to the 'skinny white muzungu with long angel hair' if they found me. Clenching my jaw to stop my teeth chattering, I squeezed my eyes shut and reminded myself how I'd come to be a central character in this horror story.
And in another, she writes that she'll look back on her time in Zambia fondly:
I know that the skinny white girl once so incongruous in Africa still lives on inside me. Even in this world where I'm supposed to belong, I still sometimes feel out of place. Whenever that happens, though, I try to remember a smiling gap-toothed child with HIV whose greatest joy was to sit on my lap and drink from a bottle of Coca-Cola. Zimba taught me many beautiful words but the one I like the most is Nsansa. Happiness.
What's more, critics pointed out that her account was factually incorrect. For example, she described "monsoon season" in Zambia, which is a landlocked country, and she described the Tutsi-Hutu conflict as taking place in Congo rather than Rwanda.
Linton's Twitter account has since been disabled, but at the time she tweeted that she was "very sorry to see that I have offended people as this was the very opposite of my intent."