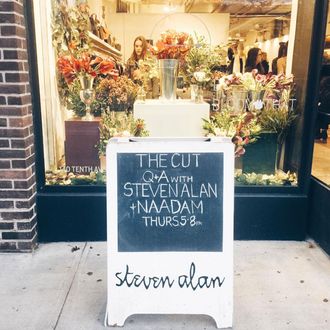 Photo: stevenalan/Instagram
"It's a long story, but somehow I found myself stranded in Mongolia," Matthew Scanlan of Naadam Cashmere began yesterday evening as he recounted the origin of his business for an intimate gathering of style-hounds, hosted by New York Magazine for its new premium membership program — New York by New York — at Steven Alan's Chelsea store.

"I lived with a family for three weeks, and even though they didn't know me, they took care of me, fed me. I was so grateful and I spent that time learning about how they lived — how they survived in negative-40-degree weather." By the time he was able to get home to America he realized he wanted to help the people he'd met. He set up Gobi Revival Fund, an organization that provided veterinarian training to care for their livestock and manage water supplies. After a few years he realized he could also work with the herders and began importing their goods: A sweater company was born.

Steven Alan, whose many well-curated boutiques provide a certain subset of New York City with stylish, lasting basics, explained the appeal of Naadam's brand. "When I meet with a new designer, I look for a story behind the brand. I look for that certain quality that stands out — where you can tell it's not anybody else's sweater."

While the audience was left to speculate on the rest of Scanlan's saga about spending three weeks with a nomadic tribe in Mongolia, the talk turned toward scaling small businesses and customer relationships. "I visit Mongolia at least two times a year," he explained about the close relationship with every step of the brand. He's looking into scaling his model of working with farmers directly to improve their quality of life — next time with Pima cotton.

Steven Alan was one of the first stores to sell the cashmere brand, which follows the pattern of many of the brands the boutique sells. Alan described his process for choosing whom to work with based on value proposition, "I'm not looking at price as much as I'm look for something that's a good value. If a leather jacket sells for $2,000 it should be something that could sell for, or might be worth, $4,000."