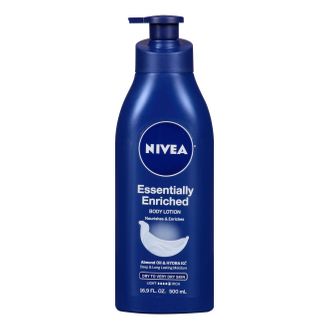 Nivea Enriched Lotion
Photo: Courtesy of Nivea
One time in school I had to march past a row of upperclassmen during a fire drill. It would have been an unremarkable encounter if my sandals hadn't revealed a pair of dry, ashy feet that I hadn't been able to moisturize after swim class earlier that day. A wave of giggles and pointing followed and a lesson was learned: Always carry a tube of lotion (and don't wear sandals if you can't moisturize after swim class). Years later I've sampled my fair share of body moisturizers and have become somewhat of an expert. When winter arrives I always return to one — Nivea's Essentially Enriched Body Lotion.
Nivea's Essentially Enriched Body Lotion isn't a new product, it is actually very old. Decades old, in fact. And yet the thick, moisturizing formula has withstood the test of time. As soon as winter hits it becomes my lotion of choice for a few reasons. For one, the creamy emulsion quenches even the driest skin. I rub a heaping amount all over my arms, legs, and feet for moisture that bucks the blistering chill of indelicate temperatures and radiator heat. It blends easily into skin, too, and doesn't leave the faintest sign of chalkiness. Some might argue that Nivea's formula is too greasy but I rather like it. What else can make your skin appear to glimmer during the doldrums of January?
On a slightly less important note, Essentially Enriched smells delicious. Slightly powdery but definitively unisex, it's a fragrance that won't instantly trigger an eye roll if a guy elects to give the lotion a whirl. After all, he really should. No one is immune dry skin, especially in the winter, and the vitamin E and almond amalgam is much longer-lasting and potent than the cocoa or shea butter concoctions I've compared it to. You can trust me on this one. There's no greater motivator than an embarrassing high-school moment to ensure that you'll never make the same mistake again.
Nivea Essentially Enriched Body Lotion, $6 at Bed Bath & Beyond