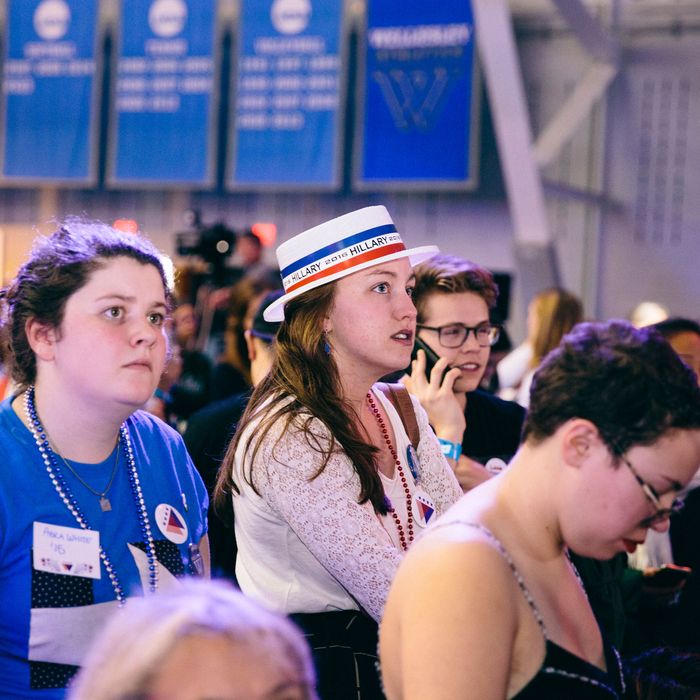 I am 35 years old, and I've taken so very much for granted. On Tuesday morning, my husband and I spent an hour in line at PS234 to vote with our 3-year-old son and 18-month-old daughter. "Remember this day, and remember this name," I said, and my son duly repeated it: "Hillary Clinton."
Later, under an autumn sun so transcendent it now seems ominous, I was driving up the West Side Highway with two fellow Wellesley alums, bound for what was supposed to be a celebration at our campus, what is affectionately known as "the Mothership." At that time, of course, we had the luxury of discussing some our hopes for the next four years — a more sustainable environment, immigration reform, equality and fairness, the next wave of feminism.
Wasn't it great, we recalled, that, at Wellesley, the future was always female? We were "first-years," not freshmen. The unusually long and shallow steps to the College's Science Center were designed with our biological proportions in mind. In my memory, every class, from Native American History to Introduction to Statistics, included an element of women's studies. "I remember debating why the ERA failed in Poli Sci 101!" said my classmate Teal Pennebaker. "Madeleine Albright and Hillary Clinton were always coming to give talks on campus, and we assumed they were just the beginning."
After my graduation in 2004, I joined the ranks of the fashion media and have been mentored by generous, entrepreneurial women — one in particular, for nearly nine years now. And so I've been lumbering along, believing that feminism is, for most conscientious people, deeply held and irrevocable.
For entirely too many reasons, this election has suggested otherwise. I should have been fighting this good fight every day, like so many women have done for decades. On Election Night, I arrived at Wellesley's watch party at the Dorothy Towne Fieldhouse and was greeted by general jubilation — buttons and flags disseminated with abandon, ample food and bev, selfie stations flanked by cardboard cutouts of Kaine and Clinton. Someone was passing around plastic hammers — a nod to the shattering of the glass ceiling — and one woman's handmade Plexiglass hat was already starting to crack.
Alicia Fitch, a lawyer from the class of '88, was dressed as a suffragette in a floor-grazing black skirt and jacket, proudly sporting a sash. "The past is prologue," she said, as her pantsuit-clad 6-year-old studied the CNN screen. "I was talking to Gwendolen in the car on the way over here, and it's my hope that as we continue, she will not have to endure a lot of the indignities and unfairness that even my generation has had to endure, not to mention the generations before me."
Kitty Bartholomew and Sandy Mason, best friends and members of the class of '80, had dinner together before heading to campus. Bartholomew sported a red beanie that belonged to her mother, a member of the class of '48. "My mom died eight months ago and was very much aware of what was going on and believed in Hillary," she said, showing me a tag she made for the hat that said "in honor of Mom, Wellesley, and Hillary." "Right now, it's a little tense, but it's all about moving forward, wherever we end up at the end of the night."
When Florida was still too close to call, Albright Skyped in from the Javits Center. She said something we really needed to hear: "Don't worry, we've still got this," and many of us got back to anxious attempts at normalcy — waiting in line for some water, asking a stranger, "So, where are you from?" When California was called, the crowd that remained went bananas, but many of the alums had quietly trickled out, sensing the outcome. "We're children of the '60s and '70s, so we know what it's like to have our hopes up and have them dashed," said Chris Santos '74.
The air began to leach out of the room; one woman went outside to cry. Most looked glumly at CNN, many put their arms around their classmates. Around 11:30, when Pennsylvania went red, my friend Amy said, "It's done. I can't sleep here tonight," so we embarked on the dark drive back to New York. The text messages that had been dinging merrily for much of the night had stopped. There were only a handful of cars on 95. I woke up the next morning, nuzzled my babies, and cried. I cried openly on the uptown 2 train. I cried discreetly during a meeting at my kid's preschool. I dry-heaved at my desk during Clinton's beautiful concession speech.
And yet the future is still so bright. It has to be! Now, I'm marveling at the fully badass students I met at Wellesley, like Aliza Alin from Lahore, Pakistan, who plans to double-major in English and math. "It's my first semester, so I'm taking basic stuff like critical interpretation, Arabic, calculus, and South Asian studies," she told me last night, totally sans irony. And then there's Sama Mundlay, another first-year from Mumbai, who landed in Massachusetts all of three months ago but is already able to make hyperintelligent arguments about America's foreign-policy positions — "And I really like what [Hillary] said about reducing the economic stress of child care," she added. Biochemistry and music student Mia Tuccillo wasn't able to vote — she's only 17 — but she promised, "I've done a lot of canvassing to try to make up for it." As this election cycle has proved irrevocably, young women in America are informed, savvy, and above all energized — surely what's to come won't be as dire as some have feared. Hillary Clinton is already back to doing her thing — leading. Has her message of grace, dignity, and unity ever been more inspiring? My children will always remember this moment. And we will always remember her name.