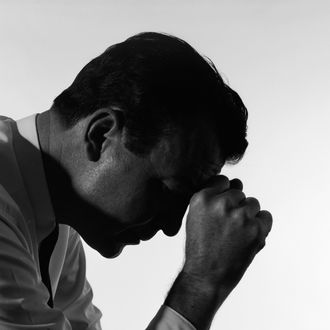 Photo: H. Armstrong Roberts/Getty Images
New research published by the American Psychological Association finds that sexism may have an impact on men too — but not necessarily in the way that proponents of the idea that "sexism against men exists" (i.e. Kit Harington) claim it does.

In a meta-analysis of 19,453 participants spread over 78 research samples, Y. Joel Wong, Ph.D., of Indiana University Bloomington and his team found an association between the adherence to certain masculine norms and negative mental health. "Meta-Analyses of the Relationship Between Conformity to Masculine Norms and Mental Health–Related Outcomes," published in the Journal of Counseling Psychology, details those findings.

Out of 11 societal masculine norms the researchers looked at, conforming to "self-reliance," "pursuit of playboy behavior," and "power over women" were most associated with negative mental health, such as depression, among the participants.

Per Wong:

The masculine norms of playboy and power over women are the norms most closely associated with sexist attitudes. The robust association between conformity to these two norms and negative mental health–related outcomes underscores the idea that sexism is not merely a social injustice, but may also have a detrimental effect on the mental health of those who embrace such attitudes.

Further, clinging to such norms was unfavorably related to psychological help seeking, so those men were also less likely to look for treatment solutions for said mental health problems.

So there you have it: Sexism is bad for truly everyone involved.