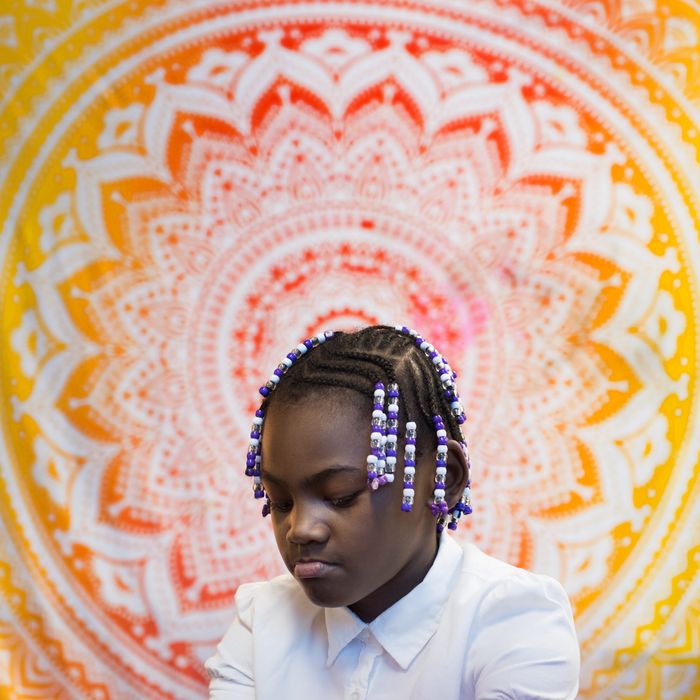 Seven-year-old Payton Taylor was sent to the Mindful Moments room to calm down after getting in a fight at the Robert W. Coleman Elementary School in Baltimore, Maryland, on November 2, 2016.
Photo: Linda Davidson/The Washington Post/Getty Images
If you think having a handle on your emotions as an adult is hard, try being a child. Therein lies the brilliance of a program happening in Baltimore, where the nonprofit Holistic Life Foundation is teaching some 120 students at Robert W. Coleman Elementary School how to meditate, do yoga, and reflect in an after-school program. What's more, Eillie Anzilotti reports at CityLab, if a kid acts out during class, they get sent to a Mindful Moment Room to notice their breathing and talk through things with a counselor. Rather than detention, meditation.
It appears to be working: Kids in the program had four suspensions in the 2012 school year, and none last year. It's part of a national trend: A nonprofit called Mindful Schools tells Slate's Elissa Strauss that it's helped over 300,000 teachers with their work over the past five years. The results impress: A similar program at Baltimore's Patterson High School helped halve the number of suspensions from fighting between the 2012 and 2013 academic years, while a transcendental meditation at a rough-and-tumble San Francisco middle school saw suspensions drop 79 percent and attendance soar to 98 percent over three years.
"We're seeing kids being less impulsive, we're seeing kids dealing with conflicts peacefully, we're seeing kids learning to regulate their emotions in situations of heightened stress, and being responsive rather than reactive," Holistic Life co-founder Andres Gonzalez tells CityLab.
While the empirical work on mindfulness meditation is getting quite massive — Harvard neuroscientist Sara Lazar says sustained practice bolsters emotional strength, a greater understanding of oneself and others, and the welcome ability to get less freaked out by stress — the research on mindfulness in schools is onto something. While the studies themselves tend to be, in the words of Strauss, "small and often advocate-funded," they're promising — with a study of 409 Bay Area elementary schoolers showing that improved classroom behavior lasted seven weeks after a meditation intervention. Given that stress — especially the kind that comes in a low-income neighborhood — has such profound effects on young minds, giving kids the mental tools to be more resilient could be huge.