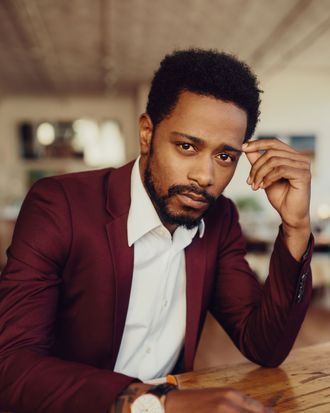 In the first episode of Atlanta, aspiring rapper Paper Boi (Brian Tyree Henry) and his righthand man, Darius (Lakeith Stanfield), visit Paper Boi's uncle for some career advice. But Darius — slouched in the passenger seat, stoned, gazing off into the sky — has his own line of inquiry. "You don't know me. My name's Darius," he drawls. "But I was just wondering: Can I measure your tree?"
Why does he want to measure a tree? Like many things about Darius, his motives are inscrutable. A modern-day philosopher-poet who seems to have been beamed down from another planet, Darius is arguably the most intriguing character on fall's most intriguing show. While he may not have the most screen time of the bunch (that distinction goes to Donald Glover's Princeton-educated hustler-protagonist, Earn, and his cousin, the aforementioned Paper Boi), Darius, the third wheel of the gang, is a reliable scene-stealer. He's the kind of guy who answers the door with a knife in one hand and a tray of cookies in the other, constantly slinging surrealist non sequiturs that cut to the core of Atlanta's funny-serious, banal-profound tone. ("If you can use a rat as a phone, man, that'd be genius," he muses at one point. "There's like five rats to every person in New York City. Everyone could have an affordable phone.")
"Darius is like the weird part of your brain that you repress a lot of the time," Stanfield tells me. "He says the inappropriate things you're thinking."
Even if you have yet to discover the joys of Atlanta — whose acclaimed first season ended November 1 — chances are you've come across Stanfield, who has spent the past few years forging a career out of small but highly memorable supporting roles: as a teenage group-home resident in 2013's Short Term 12 (as well as the original short), as a bullying Blood in 2015 indie darling Dope, as a civil-rights activist murdered by cops in Ava DuVernay's Selma, as an impressively accurate Snoop Dogg in N.W.A biopic Straight Outta Compton. The 25-year-old actor has a preternatural ability to attach himself to projects that will ignite conversation, with most of his cinematic ventures falling inside a Venn diagram of acclaimed Sundance-baity indies, boundary-pushing auteur projects, and pathbreaking takes on African-American identity.
"I'm more inclined to work on things where the imagination is taken to the outer reaches of what we can portray," Stanfield says. "I get more out of the story when it's flipped up on its head just as I do with life itself. I think I'm just naturally more attracted to those who can push the line a little bit further."
Stanfield grew up first in San Bernardino and later in Victorville, California, in a family that often struggled to make ends meet. "I was beamed down from a spaceship," he riffs when I ask about his upbringing, one of the many Dariusisms he'll offer up during our interview. "Humble beginnings, and imagination, and always seeing myself in a different position than I was in." In a recent Complex interview, he opened up about experiencing violence as a child, including being beaten by his mother's abusive boyfriend, but our conversation stays light, as Stanfield describes his mother as "a wizard" who taught him to make the best of tough circumstances.
"She somehow cast spells on us to have us re-create our perspective of what was going on," he recalls. "I remember she one time told me she was giving us all salmon, and we'd never had salmon before, we were excited like, Woo! This is a delicacy! And then she was like: It's chitlins. We couldn't tell the difference, 'cause we'd never had it before," he laughs. "She was a professional at molding perspectives to just keep us light, keep us laughing. She was a beautiful beacon of hope for us. She keeps me going."
As a kid, Stanfield binged on films with a black perspective (of which there weren't all that many), rewatching VHS copies of Menace II Society, Poetic Justice, and Love Jones on repeat, which fueled his desire to act. When he was a teenager, he got himself into modeling school, which he parlayed into an audition for Short Term 12, Destin Daniel Cretton's Sundance-award-winning short film about kids at a youth home. When Cretton decided to remake the film as a full-length feature, he asked Stanfield to reprise the role.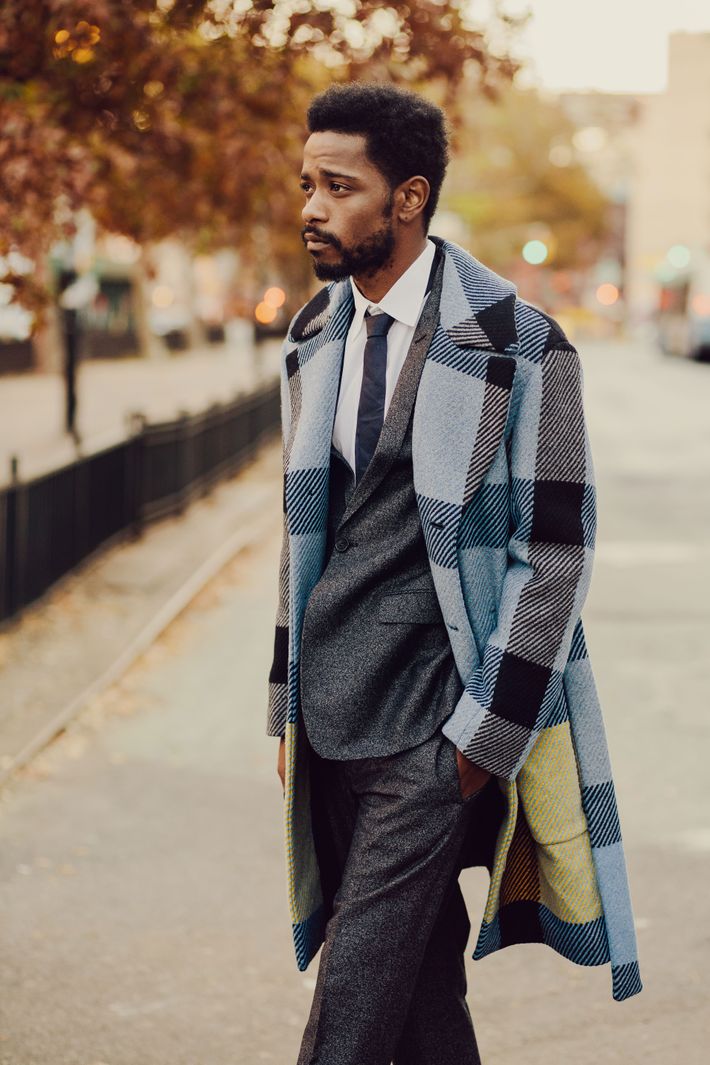 Fendi felt-wool coat; Hermès shirt; Burberry silk tie; Emporio Armani suit

"I took it really, really seriously, and I wanted to embody that character as much as possible," says Stanfield, who devotes intense, Method-like preparation to his roles. "I already knew this character intimately, and I knew to play this character I had to detach myself completely from everyone in the cast." Subsequently, he didn't speak to the rest of the cast, including co-star Brie Larson, for most of shooting. "I made an effort to isolate myself, because that's what the character's life was."
Short Term 12 was a sensation, and Stanfield got nominated for an Independent Spirit Award for his heartbreaking performance as Marcus, an abused 18-year-old who channels his pain through rap (he also co-wrote an original song for the film). The film opened a lot of doors for him. After Ava DuVernay met him at an Independent Spirit Awards brunch, she hired him to embody murdered civil-rights activist Jimmie Lee Jackson in her MLK drama Selma.

On the Selma set, Stanfield's Method-acting tendencies were put to the test once again. In the scene where Jackson is beaten and shot to death by cops, Stanfield asked to forgo padding, so as to feel every blow. "I was sore as hell afterwards," he said. "But I thought, If they can go through those real tragedies and experience that, I need to put myself through the ringer to portray this as much as I can. When the cameras stop rolling, they're giving me ice packs, they're bringing me juice to sip on, they're giving me water and fans. [Civil-rights activists] didn't have no juice packs."

Often, Stanfield has found himself in films that wrestle with complex issues of race and social justice, which is a deliberate choice. "I think I'm just interested in telling the truth, and while you're interested in telling stories that are true, then you're going to be a part of these conversations," says Stanfield. "Being black in America is an interesting path that one must walk, and it's really something that's difficult to understand unless you're in the shoes of that, walking on the ground every day. So it's something I'm constantly thinking about, constantly exploring."
Stanfield feels it's important to have black voices telling black stories, and counts himself as lucky to have worked with some of film and television's preeminent black creators, like DuVernay and Glover, who brought together an all-black writers room to make Atlanta. "It's a unique perspective, and one that is misunderstood sometimes, even by people who exist in it. Even black people don't understand sometimes their struggle in this country and globally," he says. "So I'm interested in people that are courageous enough to tell that story from a unique perspective. I think we've seen some things about what it's like, and now we're at this point where we can start exploring other different things, and I think that's an exciting time."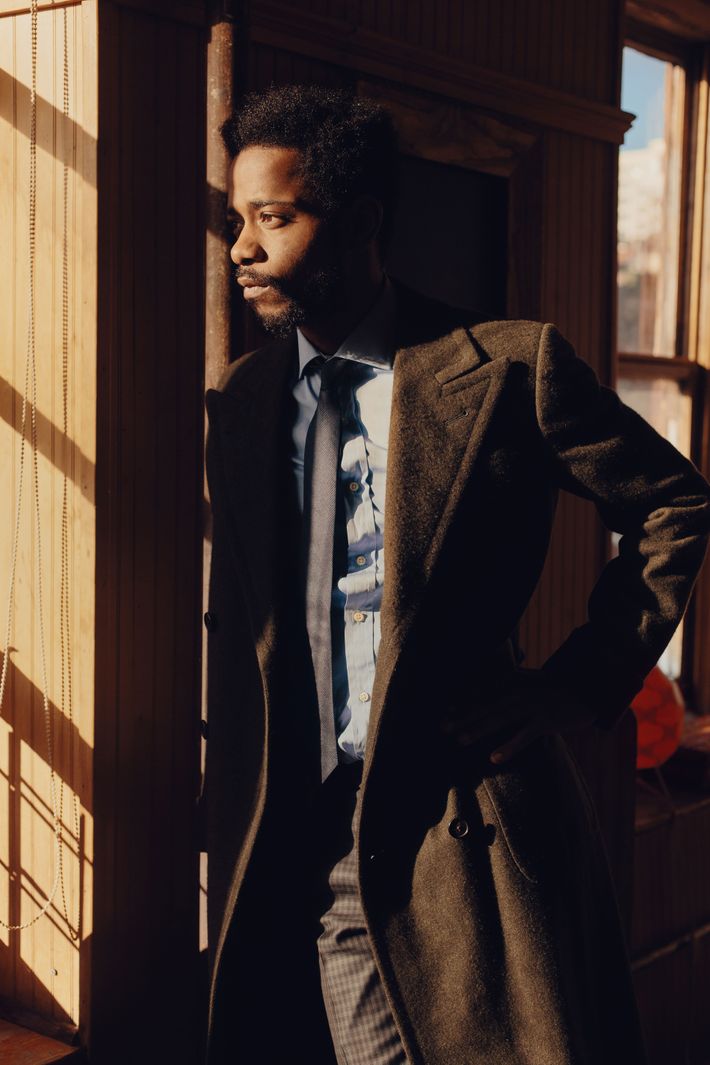 Ralph Lauren green-wool top coat and dress shirt; Giorgio Armani silk tie; Canali suit trousers
Still, Stanfield is more interested in playing characters that feel truthful than in beating some activist drum. Like Darius, he possesses a zany, offbeat energy, capable of veering from serious to playful in milliseconds. When he's not acting, he likes to be creative in other venues. "Living, music, throwing paint on canvases, dancing, playing around, going to parties," he says. "I'm just a weirdo, so I'll break mirrors and shit and be like: This is art." Next, he'll be working on finishing the LP for his hip-hop project, Moors, as well as acting in a number of anticipated films, including Adam Wingard's manga adaptation Death Note, and War Machine with Tilda Swinton and Brad Pitt. He'll also take on his first leading role: In Matt Ruskin's Crown Heights, the true story of Colin Warner, who was wrongly incarcerated for murder. ("I'm still dreaming about it," he muses. "Being in a cell. My training was a cell.") In the future, he says he'd most like to work with Ryan Coogler (of Fruitvale Station), or Quentin Tarantino, who both seem in keeping with the kind of boundary-pushing directors he has been drawn to.

And, of course, he'll soon be going back to shoot season two of Atlanta, a show he likens to a quenching of thirst. "It's like if you were in a drought and you had no water and someone brings you a water bottle and you're like, Damn, this is a beautiful thing," he says with a laugh. "It's really time-appropriate, and people have been waiting for a thing like this, and here it is."

Glover, who cast Stanfield on Atlanta after meeting him at a party in LA, says his dedication to his craft is self-evident. "He's not looking for the joke. The joke comes to him because he's being sincere to the situation and the character's expectations," says Glover. "Sometimes he won't break out of character after the take, which was almost scary to be a part of. But you start to understand his process more the more you work with him. It actually puts me at ease now. It lets me know the scene makes sense."
Atlanta is both his foray into TV and his first comedic role, but he has been mistaken for a comedic actor a lot since becoming Darius, which he doesn't mind. "I like to laugh," he says. "Please make me laugh! I could use a couple laughs now and again." Still, as he's come into his own as an actor and musician, some of the darkness that he used to carry around in his younger life has lifted. "One thing that happens with the growth is I've got less and less anger. I've got less anger at the world, angry at people, angry at circumstances."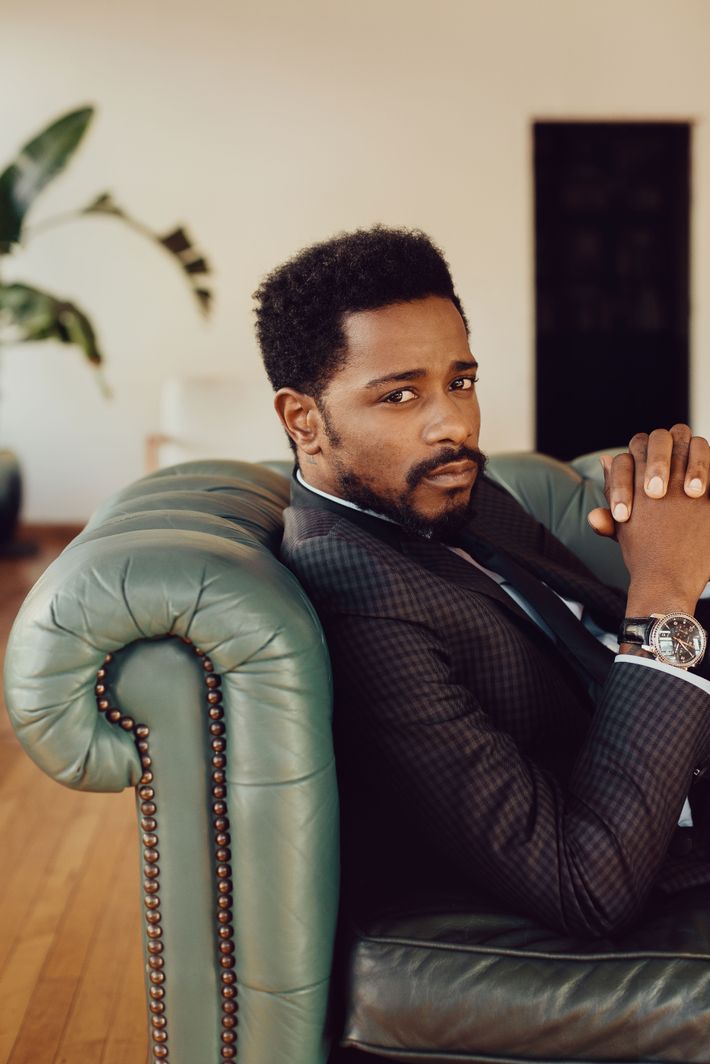 Canali suit; Ralph Lauren dress shirt, Giorgio Armani silk tie; David Yurman watch
In the age of Black Lives Matter, it can be easy to take on one heavy, politically oriented project after another, but Stanfield welcomes Atlanta for its ability to depict the nuance and complexity of black experience, to balance the heavy and the light. "We're telling it from a real perspective, there's no tear-jerking, and it ain't trying to get you to feel nothing," he says. He points to last week's season finale, which depicts a devastating act of police brutality followed by a moment of absurd banality. "In places like Atlanta, people are getting shot on a daily basis, and there's a desensitizing aspect to it," he explains. "Is it a good or bad thing? That's up to the audience to decide how they feel about it, but here is the actual depiction of what it's like. It's normal to us."
"I like the fact that they're juxtaposing something like that with, Hey, can I measure your tree? " Stanfield adds. "That's the spectrum of experience. Which is dope."
Lead image photo: Topman suit jacket; Calvin Klein dress shirt; IWC watch
Photos by David Urbanke; styling by Diana Tsui; grooming by Jillian Halouska; fashion assistant, Mars Johnson