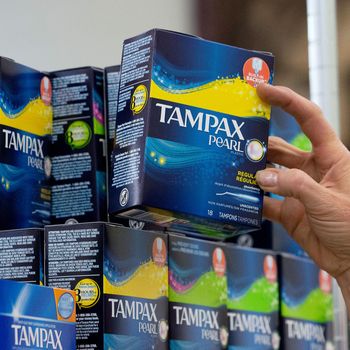 D.C.'s tampon tax will soon be a thing of the past.
Photo: Rich Pedroncelli/AP
Ladies in D.C. may soon be able to buy tampons and other feminine products without being taxed for having ovaries.
Following in the footsteps of New York, Illinois, and Connecticut, a spokesperson for Mayor Muriel E. Bowser told the Washington Post on Wednesday that she will sign legislation that will end a 5.75 percent tax on tampons, diapers (for both babies and adults), and other feminine products. But there's a catch: Before the tax can be withdrawn, D.C. needs to find $3 million a year to make up for the dent the lost tax will create in its $13 billion annual budget.
As a result, the tax — which will hit lower-income women and families the hardest — will have to remain in place for at least another year, until the next budget goes into effect in October 2017. It's worth noting that in the meantime, in D.C. (and elsewhere), Viagra will still be tax-exempt as medically essential, while women will keep on being taxed for having functioning ovaries.
"Women, babies, and persons with disabilities who need these products should not be taxed for natural bodily functions," city council member Anita Bonds, who authored the legislation, told the Post.