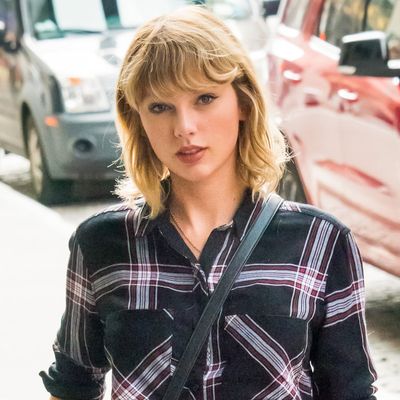 Taylor Swift.
Photo: Gardiner Anderson/Bauer-Griffin/GC Images
Taylor Swift waited till the final hours of Halloween to share with her fans what her costume was for this year. And, let's just say it was a little bit of a surprise at first glance. Swift dressed up as the comic book superhero Deadpool, complete with the full-body suit and mask.
Swift's choice of a Halloween costume, though, isn't so strange considering she's besties with Blake Lively, who just so happens to be married to Ryan Reynolds, who just so happens to play Deadpool in the blockbuster films. In the third of her photos for the night, Swift gives a special shout out to Reynolds, calling him the "BEST deadpool inside contact ever."
By the looks of the photos Swift shared on Instagram, she spent time celebrating Halloween alongside plenty of her gal pals, including Gigi Hadid, who dressed as a cowgirl of sorts and Camila Cabello, from Fifth Harmony, who dressed as a "granny with a lost cat," (*with a shout out to Swift's cat, Meredith). They were joined by model Martha Hunt, who did her own version of the iconic Brady Bunch episode where Marcia Brady gets hit with a football and model Lily Donaldon, who dressed as a "space cadet." Emmie Gundler, a body builder, also joined the new squad, who were there celebrating Kennedy Raye's birthday, according to Swift's post.

Since Swift had been mostly MIA on social media over the Halloween weekend, die-hard Swifties naturally became suspicious and went investigating her whereabouts. The efforts led to them tracking Swift's plane to an airport near London where she used to visit her former flame, Tom Hiddleston. (Cue dramatic music.) That immediately sparked rumors that the two might be seeing each other again. Which now begs the question: When exactly where these Halloween/birthday photos taken?