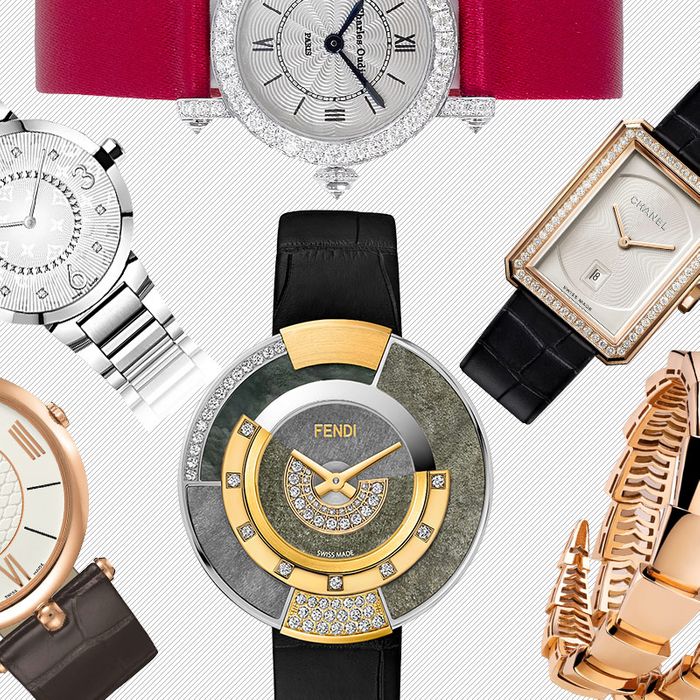 When it comes time to invest in a proper watch, you want to be sure you're spending your money on something that's both practical for everyday use and so glamorous that you can't help but smile whenever you look down at your wrist.
And with so many classic watch brands and fashion houses specializing in quality timepieces, it can be hard to figure out which one's right for you. Whether you're treating yourself or sending a subtle hint to your significant other, scroll down to see plenty of styles that are worth their price tags.
Fendi's Policromia watch is part of a new collaboration with jewelry designer Delfina Delettrez Fendi, and features a stunning stainless steel and 18-karat yellow-gold design, a ton of sparkly diamonds, and an obsidian and black-mother-of-pearl face for contrast.
For an over-the-top watch that looks more like jewelry, look no further than Bulgari. The 18-karat pink-gold bracelet isn't like any other design out there, and its iconic silhouette has been on the wrists of fashionable women for decades.
This polished Louis Vuitton watch is the best of both worlds: It has a menswear-inspired stainless-steel shape, but feminine details like a diamond-encrusted signature monogram.
This jade-faced Dior watch may not be for everyone, but you have to admit it's a beauty. Created from white gold, diamonds, and jade, this Swiss-made watch has a black satin bracelet that feels super-luxurious. It's no surprise that the legendary fashion house considers this watch one of its "exceptional pieces."
Chanel has been making timepieces since 1987, and the Boy.Friend watch epitomizes the brand's unparalleled craftsmanship. This watch is full of special details like a black alligator strap and an opaline dial and date indicator. Bonus: It's waterproof.
With its subtle, 18-karat pink-gold case, this Van Cleef & Arpels watch is feminine but not overly so. The rounded curve feels fresh, and the face has minimal details. It's a great, classic option.
This Charles Oudin watch is a bolder option than most on this list, but if you're going to spend $13,000, you might as well go for it. The Roman numerals and satin strap feel modern, but the 18-karat gold face set in diamonds feels very Elizabeth Taylor.