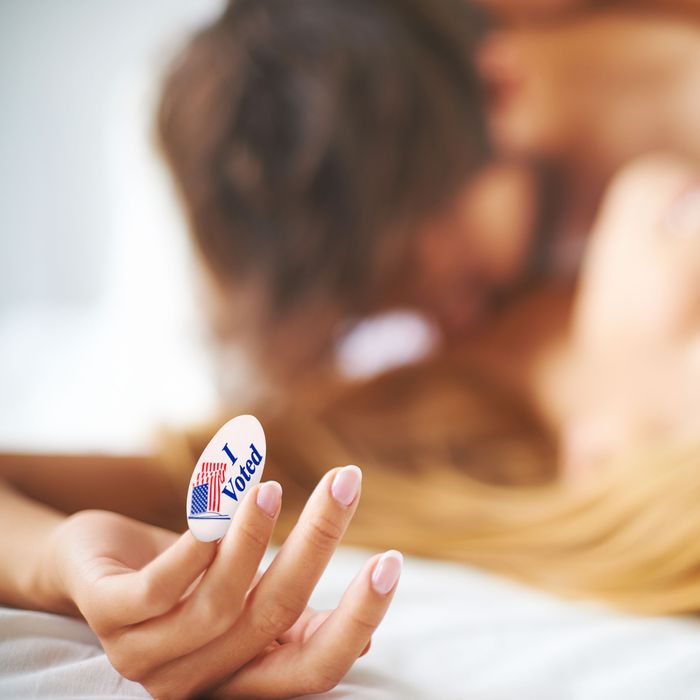 Photo-Illustration: Getty Images
The 2016 presidential race has been especially long and divisive, one that brought out a multitude of conflicting emotions in the public: stress, fear, hope, and, of course, horniness. As it culminates on November 8, many are seeking a release for the latter — or so Craigslist tells us.

From people looking to escape the anxiety and tension of waiting for election results to those trying to reach across the aisle for a bipartisan encounter, here are excerpts from the best Craigslist ads looking for Election Day sex in New York and D.C. Because no matter how you feel about who wins, having sex is a great way to celebrate the end of this national nightmare.

Pre Election Sexual Release – w4m
I am so tense and nervous and depressed because of the dismal political election situation. My depression will only lift by smoking a ton of 420 and then having intense great orgasms. Who will be my Prince Charming who will arrive with bouquets of weed and a large talented penis to fuck me with

Hipster election day head lol – m4m or m4mm
Ok, can host or travel. Hipster guy who likes no candidate in the election - let's play a game. Clinton wins, I give you head. Trump wins, you give me head? Love straight or jock types, college or 30's guys who love getting head. hit me up. This is for after 9pm tuesday.

Election Distraction – w4m
Older married woman in need of a distraction from this crazy election. It will all be over soon, then what? Time to go out and celebrate (hope you are with her)? Despair in the apocalypse (he can't possibly win)? Either way, let's do it!

Let's Make Craigslist Great Again – w4m
Or at least decent. Look what a terrible job we did with our current election. Tomorrow scares me! Hold me! I've been on a bunch of dates on this site & there are actually some good people here. Like me.

Watch the election results together and play – m4w
I want to watch the results with another knowledgeable democrat, a beautiful woman and kinky too.

Edging fun with an older woman on election night – m4w
I'm looking to celebrate the end of this election with someone this evening. Specifically, I would like to be edged until the election is officially called, at which point I would be allowed to release. I've been stressed out and have had a run of bad luck recently, so it would be nice to blow off some steam.

pre-election pussy eating – m4w
im with you!!! come on over before you go vote or i can come to you…and let me eat you out before you have to wait in the long ass voter lines today!!! car fun too?
Bleeding Heart Liberal for Trump Supporter on Election Day – m4w
Tomorrow I am proudly casting a vote for Hillary Clinton. All her flaws aside she's the best person for the job, and I'm happy to finally see a woman running for the highest office in the land. I've been horny as hell over the last few days as my election day anxiety builds and builds. I want to meet up with someone after I vote, hopefully someone who voted for Trump, and work out all of those pent up feelings with a good strong fuck. As badly as I think he'd fuck up this country, that's how hard I want to fuck you. He ran a sloppy, dirty, off the rails campaign. We can have some messy, filthy, wild sex to celebrate. I'm serious. You think Hillary's crooked. You think she belongs in prison or is too big of a liar to be running for President. Convince me by riding my cock and sitting on my face. I'll even share my tic tacs.

I am gonna cry tonight. – m4w
Yes. It is election day. Email me if you are a Republican, can host, and wanna fuck the election away together. Cheers.