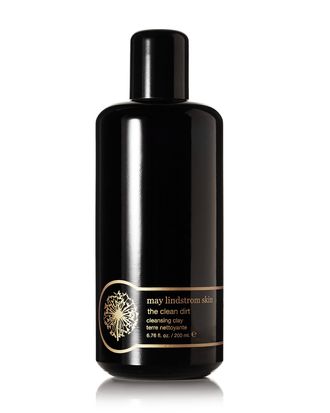 May Lindstrom The Clean Dirt
There are several celebrity hairstylists in this town, and recently my friend patronized one of them. As she sat down in the stylist's chair, she was insulted right off the bat: Did you cut your hair yourself? You really need to deep condition more often. Have you even heard of a toner? Several hundred dollars later, when she told me this story, I said, "Well, I guess you'll never go back there again."
"Actually no, it was the best cut of my life," she said, adding: "I can't wait to go back."
May Lindstrom's cleansing dirt is a bit like this experience.
At $60, the cleanser tops most in the luxury set (Givenchy's Cleansing Foam caps off at a dweeby $34). But when massaged over the face, your skin feels smooth, looks radiant, and pores appear impossibly clear. It's expensive, kind of a pain to use, but unequivocally worth it.
The company points to several factors that affect the cleanser's steep price. For one, the packaging is very pretty, darkened to mitigate spoilage, and impressively heavy because it's made of glass. Then there's the organic element. The cleanser is composed of organic nutmeg, cinnamon, clove, and ginger. These ingredients, along with powdered clay, sea salt, and vitamin C, are combined to form a gray-brown dustlike formula. The concoction looks exactly like dirt.
And when you get your hands on the dirt, you're required to do some work. First you shake a teaspoon of the powdered cleanser into your hand. Add a few drops of water, and then massage the mixture into a froth-like mousse. Rub this formula all over a wet face to gently polish away dirt and uneven splotches of skin. It's a meek, granular exfoliation that feels nothing like the rough tug of a scrub, and yet it delivers very smooth skin. And then there's the glow. Skin-stimulating ingredients like vitamin C, ginger, and cinnamon encourage increased blood flow to the face, for a fresh, just-had-a-facial radiance. To date, it's the only physical exfoliant I'll recommend, given that it's both gentle and effective.
I use The Clean Dirt a few nights a week at night, when I have a little more time to tend to my face. The cinnamon might be irritating to those with sensitive skin, so tread lightly. For everyone else, try this ridiculously expensive dirt: It'll make you feel so clean.
May Lindstrom The Clean Dirt Cleansing Clay, $60 at Net a Porter.