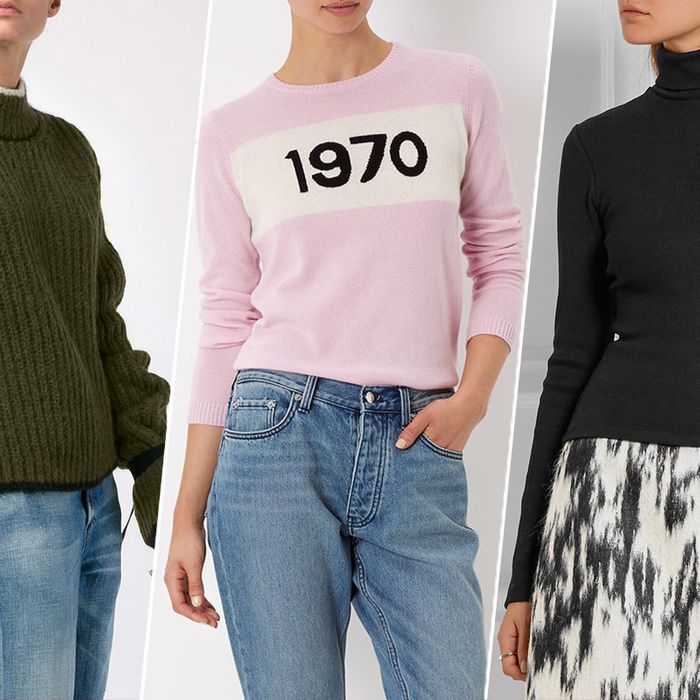 Since it's officially sweater season, you've likely pulled out the many black, gray, and navy sweaters you have on hand from last winter. And while those probably do a fine job keeping you warm and moderately stylish, it always helps to have a fun printed sweater, carefully-detailed turtleneck, or androgynous take on the bell-sleeve trend to get you through a season of sub-zero temperatures. Here, the Cut editors weigh in on the graphic knits, striped bodysuits, and cut-out crew necks they're coveting.
"I'm a sucker for a striped knit — it's the perfect combination of tomboy and Gamine Jean Seberg style, and an eternal classic. However, this one's different: It's a turtleneck in bodysuit form, which intrigues me — its form-fitting and flattering and won't look bulky when tucked into high-waisted jeans or black wide-leg trousers. I am a big fan of the designer, Cate, who I used to work with. She always had the best sweaters and T-shirts, so of course when she launched her line of knitwear and denim, it was near-perfect and on the top of my shopping list." — Rebecca Ramsey, Style director
"I love British designer Bella Freud's graphic sweaters. Especially this one, which is in my new favorite color and emblazoned with a year that means nothing to me personally, but seems cool." — Véronique Hyland, Fashion news editor
"I love J.W. Anderson's take on structure, silhouettes, and making simple things look so cool. Case in point: this army green sweater. Instead of the trendy bell sleeves that are on every other sweater these days, this iteration has black ties at the cuffs. That extra detail makes it so special. I also love that this is a slight turtleneck, not a full one, so my neck can breathe." — Lindsay Peoples, Fashion market editor
"I like this sweater against all the odds: There's no way it would be flattering on me, and really nothing practical about it either. You can't put it under a coat, which makes it hard to justify for winter. I suppose you could use it instead of a fall jacket, but who ever heard of wearing a fall sweater as a fall coat? It doesn't matter, because I think it looks cool as hell in this photograph. I love the giant buttons that run down the side. I love the proportions. I want this sweater because it feels like an extravagant fashion sweater, an oxymoron of cream wool. In fact I want it precisely because it makes no sense." — Stella Bugbee, Editorial director

"I love a good turtleneck, especially one that's oversized and cozy looking like this Studio Nicholson version. It has a curved, slightly cropped hem so you can wear it with jeans or a high-waisted skirt but it's cozy enough to travel in. I try to spend a substantial chunk of winter on a cold, snowy mountain somewhere on the West Coast so I'll throw this over sweatpants for my plane ride. When I arrive at whatever ski town we decide upon, I'll wear it for all the après activities, too."–Diana Tsui, Senior market editor
"I'm at the point where I own enough basic crew-neck sweaters, so now I'm looking to play with them a little bit. As impractical as it sounds, cut-outs are a huge trend for knitwear this fall: This one from Beaufille is super flattering because it's not too bulky (which means I have enough room to wear it underneath all of my jackets and coats) plus the one shoulder detail leaves room to have fun layering something like an oversize white button-down."— Indya Brown, Fashion assistant
If you buy something through our links, New York may earn an affiliate commission.