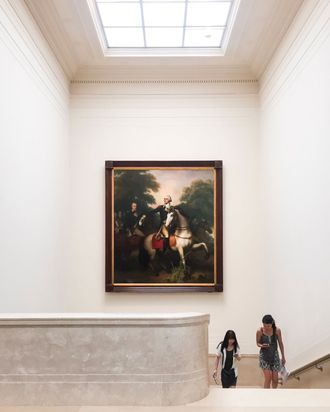 Weekend With is an ongoing Instagram series that features people we like photographing places we'd like to be. Follow @thecut on Instagram to join in, and tag your photos with #weekendwith when you travel somewhere new.
With hours to go before the election, we decided to call upon D.C.-based photographers to show us their city. From street art, to portraits of faces who make the nation's capital the vibrant place that it is, Phil Martin and Holly Garner shared their favorite images of the political hub they call home.
Holly Garner is a social photographer based in Washington, D.C. with a master's degree in art history and a career at the National Gallery of Art. Her personal work is best described as a visual diary and through it she seeks to document her beloved city, her travels, and the people she meets along the way. After recognizing the lack of an established Instagram community in Washington, D.C., Holly created IGDC to fill the void.
Phil Martin is an autistic, self-taught photographer from the suburbs of Washington, D.C. Phil loves to tell stories through portraiture, which he says allows him to connect with subjects — something that autism makes difficult for him in everyday life.