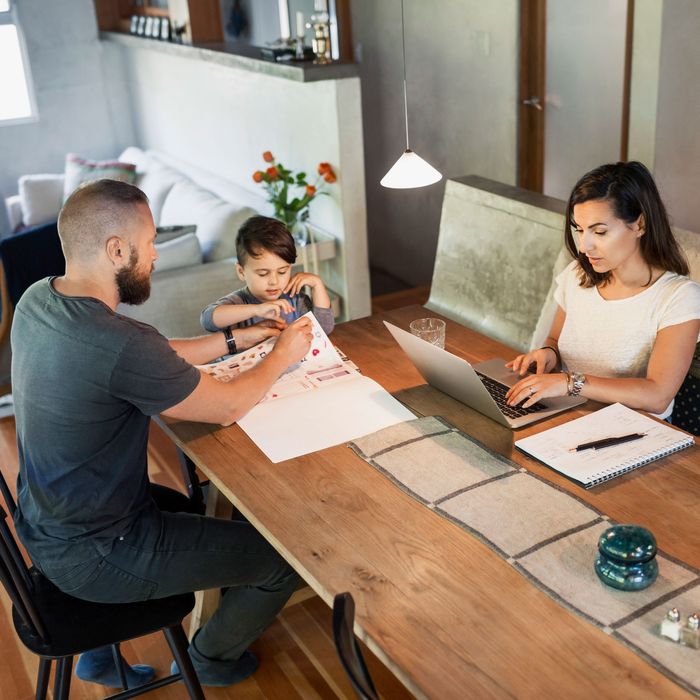 Photo: Maskot ./Getty Images
A recent report from the Center for American Progress suggested that children should probably go to school from nine to five in order for their schedules to match up better with their parents'. This would make child care far less of an issue for many families. But while we're not even close to that actually happening in the U.S., an even newer report suggests solving the child-care crisis in America is even more complicated when parents who work odd hours and shifts, such as jobs in retail and the service industries, are taken into consideration.
A series of in-depth interviews with families in the San Francisco Bay area, conducted by graduate students at the University of California, Berkeley, and a professor at the University of Pennsylvania, makes it clear that families are facing a wide array of challenges exacerbated by mismatched school and work schedules and a lack of free child care.
Working parents with stable schedules, the report finds, often use a "tag team" approach, with one parent picking up where another leaves off. That can work pretty well, as far as the child is concerned, and it's also often the most affordable (and nurturing!) way to create a cohesive family routine. But parents with unstable schedules — those who need to be on call, or who work odd and unpredictable hours — often manage their schedules via a "child-care scramble." According to the researchers, confusion and instability at work breeds instability at home. For parents with inconsistent work schedules, the report describes, "the care arrangements were pieced together on an ad hoc basis," often relying on "one 'family anchor,' usually a grandparent, who could consistently provide child care" when a parent had to dip out unexpectedly. Who, for instance, can cover child care for parents called away to work at night, especially in a single-parent home? Day-care centers almost always close by 5 or 6 p.m.
The report stops short of making any recommendations or drawing any conclusions, but it's clear that, as we face the growing call to make American life more equitable to working families, the needs of all kinds of families, not just those who work from nine to five, must be taken into account.