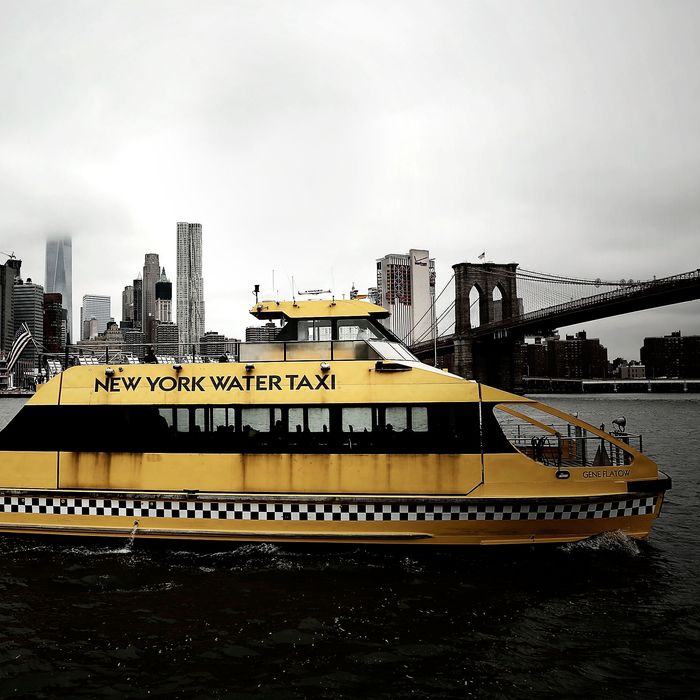 Get Sex Diaries delivered every week.
New York's Sex Diaries series asks anonymous city dwellers to record a week in their sex lives — with comic, tragic, often sexy, and always revealing results. This week, a 38-year-old broker amazed by how much sex post-divorce life has to offer: single, straight, Williamsburg.
DAY ONE
8 a.m. I'm in an Uber to work. It was a big weekend: two dates, two hookups. I'm finally single, off antidepressants — and it's all coming together. I went on antidepressants after my divorce. Two years ago, my now-ex-wife left me for someone she met in acting class.
11:45 a.m. Monday therapy! My shrink is all about embracing bad behavior, i.e., sleeping around. She says being a man-whore is helping me transition into healthy, single living. About that: I slept with both my dates this weekend.
3 p.m. I tell my partner (we do apartment sales together) that one of the women from the weekend mentioned she had an STD. It was totally taken care of and I was at no risk of catching it, especially with a condom (which I ALWAYS use). My buddy and I agree an STD handled "with class" is not a deal-breaker. We decide that most people probably have STDs and probably lie about it, which is far grosser. I wonder if HE has an STD. Speaking of, I should get a physical.
3:30 p.m. I was faithful to my wife for ten years — I'm just sowing my oats. Things have changed so much since I was last single. Everyone is having sex: You don't have to work half as hard for it. Especially out here in Williamsburg. I'm honestly not sure if that's a good thing or a bad thing.
9:30 p.m. I watched some TV and ordered soup dumplings. Big week coming up. Better sleep while I can!
DAY TWO
1:30 p.m. I've been out with a wealthy couple for several hours looking at back-to-back apartments. I don't envy this guy. His wife keeps making fun of his style, or lack of style. She also made a dig about his bonus not being good enough, and believe me, this guy did okay. Did I check out her ass? Of course I checked out her ass. It was nice. Not nice enough to be mean to her husband. But yeah, nice.
7:30 p.m. Meeting a woman I rented an apartment to about three years ago when we were both married. Let's call her Lana. We follow each other on Facebook and noticed both divorces and … I asked her out. I'm sitting at a wine bar in Williamsburg waiting for her arrival. It's an expensive place. Dating is bankrupting me — you even have to be rich to date in New York!
7:45 p.m. Lana looks great and smells great. Her hair is wet and her cheeks are cold as she kisses me hello; I'm turned on by both. Apparently, she's just come from spinning under water (or something like that).
8:45 p.m. I think Lana is not into me because she only ordered one glass of wine, moved on to water, and said something about a late call with her L.A. office. I smell bullshit. It's okay. She's a little pretentious.
11 p.m. Catching up on all the online dating, texting, post-sex follow-ups, etc. It's tiring. I'd trade it all in for a real relationship, but I know that will come in time. I would not trade it in to be back with my ex-wife. I really fucking hate her. We don't speak or see each other at all.
DAY THREE
9 a.m. I have early showings around my neighborhood, which is convenient, as well as a lunch date with one of the girls from the weekend, the one I like the most right now.
1:30 p.m. Showings were successful. Looks like I won't have to worry about my dating budget. Heading over to Scalino in Greenpoint to meet Eva for lunch. Eva is a freelance food writer. She claims to be bisexual, but she also said she's never had sex with a woman. Oh, Brooklyn. I remember her saying she was turned off by my line of work, which hurt my feelings. My therapist suggested bringing it up at lunch.
2 p.m. I ask her what she meant by real estate being a turnoff, and she tells me her mom did real estate and that it seems like a shady business. My reply: "Only as shady as you make it. I'm not shady. I never tell lies." (That is the truth, by the way.)
I go on to tell her that it was kind of a rude thing to say, but that I'm past it. She halfheartedly apologizes, jokingly saying something like, "Oh, get over it!" I think I can get over it.
3 p.m. We're both done with work for the day so I invite Eva over to see my place. When we had sex over the weekend, it was drunken sex at her Greenpoint apartment. She was a lot more fun to be around that night, but I'm still enjoying her company.
3:30 p.m. We're drinking beers. I kiss her on my couch and she kisses right back. We both know why we're here. We start fooling around. I'm excited to go down on her because I didn't get to do that the night we had sex. I go down on her for a while. She has a great scent about her. It's part fresh soap and part, I don't know, pretty lady. She tells me she's about to come and that's when I know to really get the fingers going with the tongue. I have one finger deep inside her and I'm sucking and licking her clit. She comes. Loudly! Nice.
4 p.m. We end the sexy-time after that and I'm fine with it. Really glad I pleased her. She's all dressed and ready to go home. I hope to see her again. I still feel a little unsettled (or is it insecure?) about the real-estate comment. And her dismissal of my feelings. But mostly — all good.
DAY FIVE
9:30 a.m. At the office doing loads of paperwork. Eva and I texted a little last night. This afternoon I'm taking the ferry to Dumbo to meet someone I met on Election Night. We were at the same bar. I asked for her number, but not her last name, so I have no idea who this person is really. It's refreshing not to Google-stalk someone but also unnerving. Let's call her Whitney.
12:35 p.m. Ferry to Dumbo. I'm really loving Brooklyn life.
1:15 p.m. Whitney is already waiting at the bar of the restaurant with a glass of wine. She is a knockout! We get right into talking. She is also divorced and has a young child. She is an actress, which scares me because of the PTSD from my wannabe-actress wife banging her wannabe-actor boyfriend. Actresses are scary. I don't know. Is it just me? Why couldn't she be a teacher?
2:45 p.m. The date is over. I give her a kiss on the cheek good-bye. I'm not sure. She talks a LOT. And, this might sound really wrong to say, but she kind of had bad breath. We were sitting pretty close-up at the bar. My ex-wife used to say women who don't eat have bad breath. Was that it? Well, we'll see if she gets in touch.
7 p.m. I'm still texting with Eva, which is nice. I never heard back from the other girl I slept with last weekend, the one with the STD who handled it with class. Not a good sign for my sexual talents, but I'm just not going to think about it. Eva invited me to a party she's having with a bunch of foodie friends tomorrow night. Sweet! I line up my brother to come with. He's married with kids but still a good wingman on occasion.
DAY SIX
9:30 a.m. Taking my nephews to swim class at the Y. I love them so much. Can't wait to have kids of my own. Hoping I meet the one soon.
12:30 p.m. More family time at my brother's place. He really hit the jackpot with his wife, Carrie. I love her like a sister and they are truly, genuinely happy. Carrie gave up on setting me up a few months ago. I wasn't crazy about the two girls she introduced me to (one was way too young, the other I wasn't attracted to). They love hearing my dating stories. Lots of "ear muffs" on the little ones these days!
1 p.m. I go home to chill, planning to meet Eva at her apartment for the party around eight.
9 p.m. The party is pretty empty. It's more of an Instagram-fest than a party. Lots of snapping of apple pies. There's a green-matcha pie everyone's going crazy for, but I'm not interested in tasting it. I guess it's a "bring your own pie" party — Eva didn't mention that. I brought wine (and my brother). I'm drinking plentifully.
9:45 p.m. My brother is happy to do anything not involving Legos so he's having a ball, but I'm pretty bored. I ask Eva for a second alone in her bedroom. She says she'll meet me there.
10 p.m. We just had the quickest fuck against the wall of her bedroom. We basically kept all our clothes on and I threw her against her wall (but nicely). She locked the door. It was extremely hot. Who wants pie?!
11:30 p.m. My brother and I are stuffed, drunk, and small-talked out. Good night, weird food bloggers and expensive baked goods. I tell Eva I'll text her in the morning.
DAY SEVEN
11 a.m. I haven't slept this late in forever. Mild hangover — egg and cheese must happen now. On the way out of my building I text Eva about how sexy she looked and how much I enjoyed the pie. Yes, I used a wink emoji.
11:20 a.m. She texts a bunch of winks right back.
3 p.m. Hangovers make me depressed. I don't really like being single. Does anybody? (Seriously, does anybody?) Again, I don't think Eva is the one. My gut says nah. But who is? I'll keep looking. She's out there somewhere.

Get Sex Diaries delivered every week.
Want to submit a sex diary? Email sexdiaries@nymag.com and tell us a little about yourself.