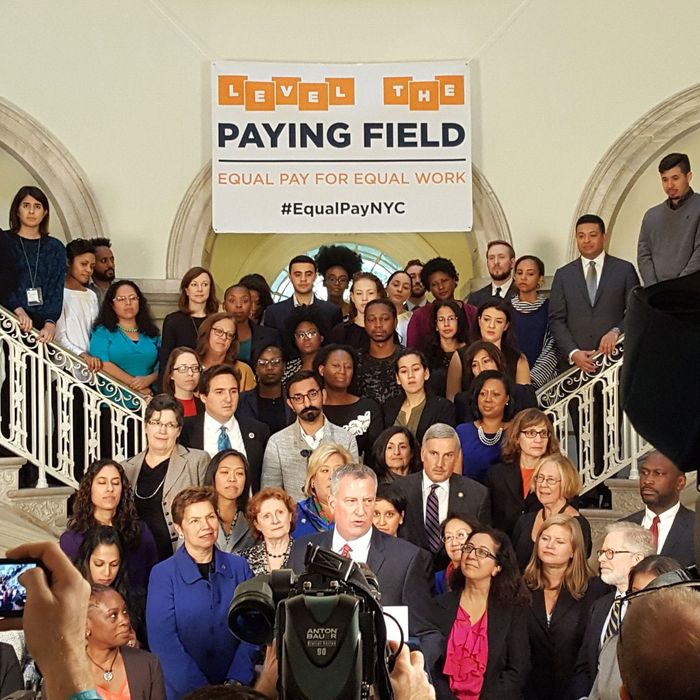 Photo: Courtesy of Twitter/mayorsCAU
In August, New York City public advocate Letitia James introduced legislation that would make it illegal for companies to ask prospective employees about their salary histories during the interview process. Today, in a gesture that will affect thousands of incoming city workers, Bill de Blasio signed an executive order banning this practice for municipal employers of the City of New York.
This move is a huge push in the fight to close the gender pay gap. When companies ask prospective employees about their salary histories, it presents the potential to undervalue women and minorities from the hiring process onward, making it difficult for them to catch up to white, male salaries in their lifetime. This practice perpetuates the gender pay gap — when women and minorities start at lower salaries, their next job can hire them for cheaper than they would a man, and this inequality continues into perpetuity. On the phone with the Cut this afternoon, Mayor de Blasio said issuing this executive order did not take any convincing. "We had to figure out what was the quickest thing we could do in working toward pay equity."
James's office released a report in April that analyzed salary data of the women and men of New York City. It found that, "altogether, women in New York City earn about $5.8 billion less than men in wages each year," and worse, black women earn only 55 cents to a man's dollar and Hispanic women only 46 cents. The disparities are slightly smaller in New York than they are nationwide, but one particularly egregious detail speaks to how disadvantaged New York City municipal women workers are: "Women employed in New York City's municipal government face a gender wage gap that is three times larger (18 percent) than the gap experienced by women working in the private for-profit sector (6 percent)."
"I don't fully agree with [James's] analysis of what's going on in the city government, but her report was still important to us," de Blasio said. "It's all part of a continuum — from paid sick leave to raising the minimum wage to free pre-K. It's all part of an agenda, but in particular, we wanted to find a way to support women by addressing economic unfairness."
Today's executive order is unlike the recent bill signed into law by Massachusetts governor Charlie Baker that bans all employers — private sector included — from asking about salary histories, and hiring managers must state a job's compensation upfront. De Blasio's action, on the other hand, only reaches prospective employees for the City of New York, but First Lady Chirlane McCray believes this only the beginning.
"It sends a message," she said over the phone. "The city is a huge employer. It makes New York City a model for other cities around the country." On whether this particular order will have an impact on the private sector, de Blasio remains hopeful. "Obviously we are very receptive to the city council passing broader legislation. Do we have a schedule for when perfect equity will be reached? No, but we believe that this could move very quickly." In today's announcement, de Blasio also committed his support 0f James's legislation that seeks to make the same policy apply to private sector employers.

In conjunction with today's order, de Blasio penned an essay for Cosmopolitan about gender inequity and how the mayor is proud to be at the forefront of this shift, one that has plagued women and minorities since they entered the workforce. "Our message is simple," he writes. "What you made at your last job should not determine what you make at your next job." How did the mayor feel about having his first Cosmopolitan byline on an issue as important as closing the gender pay gap? "I feel I've arrived," he said. "This is a whole new world for me."