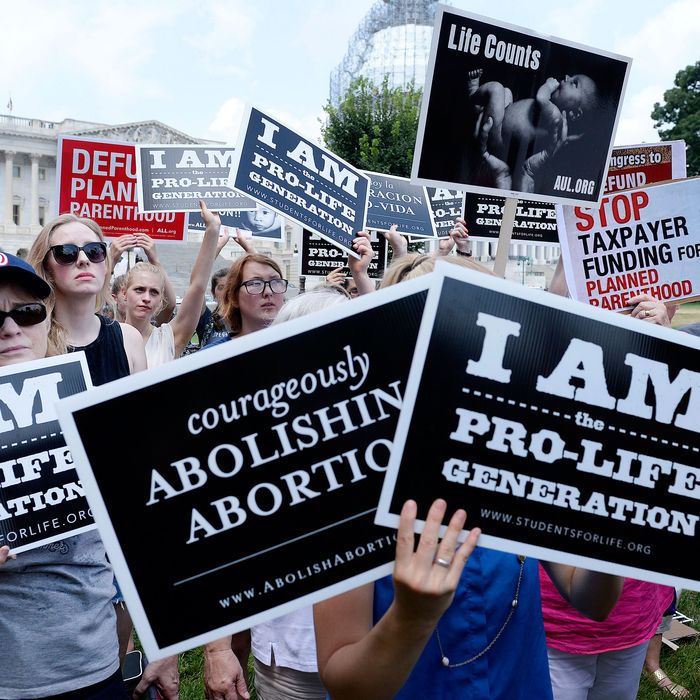 Anti-abortion activists hold a rally in front of the U.S. Capitol.
Photo: Olivier Douliery/Getty Images
A Trump presidency doesn't bode well for Roe v. Wade, so it's not a huge surprise that the Republican-controlled Congress is also reportedly planning to take away Planned Parenthood's government funding once and for all. "GOP sources on and off the Hill" told Politico that efforts to defund the family-planning organization will begin in earnest once Trump takes office. "We have every assurance [from congressional leaders] that it's going to happen," said Marjorie Dannenfelser, president of the Susan B. Anthony List. "Nobody is saying 'whether,' the question is 'when.'"
Federal law prohibits Planned Parenthood from using government funds for abortions; instead, the money goes toward other programs, such as providing medical exams and birth control. And a bill passed by the GOP in 2015 cut Planned Parenthood out of Medicaid, which is where most of its federal money came from. But anti-abortion activists still object to Planned Parenthood receiving money through the Title X family-planning program, saying that by supplementing Planned Parenthood's funding, the money is going toward abortions by proxy.
According to Politico, Republican lawmakers are planning to attach a provision defunding Planned Parenthood to the bill that will repeal Obamacare. If that's the case, they could pass the whole thing through a fast-track budget procedure that would bypass a Democratic filibuster and could have the bill on Trump's desk in weeks.
But GOP lawmakers have been evasive about their plans. One Republican aide told Politico that there's "an expectation [among conservatives] that it will be included in any reconciliation bill," and House Speaker Paul Ryan said last week, "We've already shown what we believe with respect to funding Planned Parenthood. We put a bill on Obama's desk in reconciliation. Our position has not changed." Other lawmakers refused to discuss the legislative agenda any further.
In a letter published in September, Trump promised he would defund Planned Parenthood as well as implement other restrictions to abortion access, such as making the Hyde amendment permanent and banning abortions after 20 weeks. But he's also said Planned Parenthood helps "millions and millions of women" — a point Democrats are sure to bring up should its funding be threatened.
"That's a fight Democrats would relish," said one Democratic aide. "Doubling down on President-elect Trump's contention that women should be punished for abortion and putting their extreme views into action would be a huge misstep on their part."