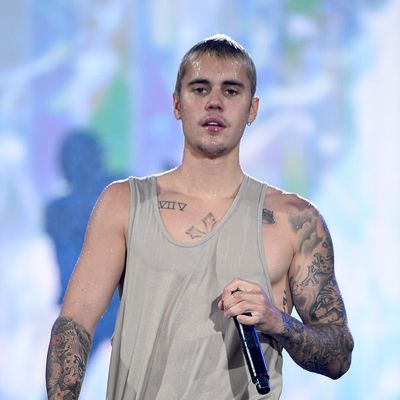 Photo: Kevin Mazur/Getty Images
If you'd like to spend New Year's Eve with Justin Bieber but your name isn't Sofia Richie, Bronte Blampied, or Hailey Baldwin, you can still take your passion and make it happen — for a price.
Miami's Fontainebleau resort is offering a five-day package for a cool half-million that includes all the bells and whistles you could imagine. It's really more like living as if you were Bieber than just catching his concert on NYE. As per TMZ, the package includes a five-night stay in the Fontainebleau penthouse, plus comped meals, access to your own poolside cabana, tem tickets for a table right at the stage for Bieber's performance, VIP treatment at performances by Skrillex and Marshmello, shopping sprees, and the use of your choice of high-end cars, from a laid-back Lamborghini to a McLaren. Luckily, you can nurse yourself back to health with a New Year's Day Bloody Mary bar, in-suite chef, and spa treatments.
If you can't pony up the $500 grand, maybe you can find $50,000 in your couch cushions for stage-side tickets. Or you can shell out $500 to party at Bieber's concert with the rest of the plebes. Or you can just watch it the next day via what's sure to be countless grainy videos uploaded to Twitter and Instagram.
If Bieber walks offstage, as per his recent performance in Manchester, well, that would be a bummer. All sales are final.