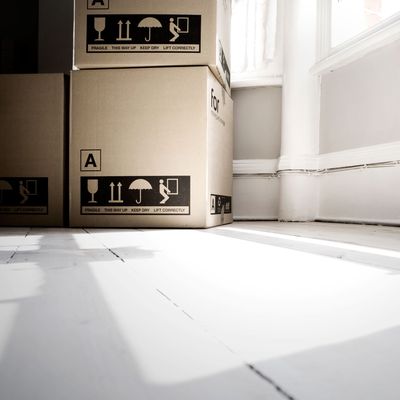 Get Sex Diaries delivered every week.
New York's Sex Diaries series asks anonymous city dwellers to record a week in their sex lives — with comic, tragic, often sexy, and always-revealing results. This week, a 24-year-old fashion editor's assistant in a highly sexual relationship: single-ish, straight, Upper West Side.
DAY ONE
8:30 a.m.: I wake up to a mild hangover in the guest room at my older sister's apartment in Delaware. Can you imagine? Being a 20-something who can afford an apartment large enough for a guest room? That's what you get when you live in NOT New York City. I'm here visiting for the weekend, heading back to Manhattan today.
12 p.m.: My sister drives me to the bus station. I pray the whole way there that my bus will be on time. It's a little under three hours back to Port Authority, but I just want to be home. The less time on a Greyhound, the better — it's just so much cheaper than taking Amtrak.
1 p.m.: On the road! I text M — an old friend from college I've been fucking for a few months — to let him know I'm on time and to make sure he's still planning to meet me when I get in. He is.
3:45 p.m.: Our bus pulls in perfectly on time (!). I text M, who says he's still on the subway.
4:10 p.m.: I text M. again: "Where are you?" He responds that he still has four stops to go. Suddenly, my mood shifts. I'm hungry, exhausted; I just want to be home. "What am I supposed to do?" I respond. "I'm just waiting here in fucking Port Authority." He keeps apologizing and tells me he'll just meet me at my place. I head to my train.
5 p.m.: Back at my apartment, M and I sit silently on my bed. He showed up on my subway platform just as the uptown train was arriving. He keeps apologizing profusely. I tell him if I were a priority, he would've planned ahead and left earlier. He likes me so much — I know that'll get him.
6 p.m.: M finally breaks the silence between us by wordlessly closing my bedroom door and getting naked. He goes down on me before sliding inside. I am uncharacteristically not really feeling it at all. He's rough, which I usually love. But I think he can tell I'm not all there. I feel terrible about that, but again, can't get out of this funk.
7 p.m.: We order Chinese and watch the Colts–Green Bay game before M falls asleep on my couch.
DAY TWO
7:15 a.m.: I wake up to M running a finger along my pussy. He slides down the bed, pulls off my shorts, and goes down on me. He's excessively generous in this sense, which I appreciate. He comes back up the bed, slides into me, and we have close, deep sex. Skin-on-skin contact is arguably my favorite thing about intercourse.
7:40 a.m.: M gets in the shower and I roll back over for more shut-eye. Yesterday's mood seems to have carried over. What the hell? I can tell this is going to be a shitty Monday already.
9:45 a.m.: Do you ever just have an ugly day? Today is one of those days. I feel lousy from the inside out.
10 a.m.: Feeling exhausted at work. I took a weekend off from my usual heavy drinking and recreational drug use and yet, here I am, feeling like I went on a weekend bender. Thankfully, none of my editors are bothering me with too much today.
6:30 p.m.: I decide to skip the gym for tonight. No can do — this mood has overtaken me.
8 p.m.: I find myself mindlessly scrolling Facebook, rolling my eyes at a few ignorant political statuses from some hometown heroes. You know the ones: the people who think Olive Garden is exotic and who share Onion articles without understanding the irony. I guess I was naïvely optimistic about the election's outcome (not that I was able to put my full support behind either candidate, to be honest). But considering the sad outcome, it appears we all were.
9:30 p.m.: After some back-and-forth texting and me being indecisive, M arrives at my apartment. It's a little awkward because of my mood and general feeling of not wanting to be touched, looked at, or talked to, but he's patient and just lies with me. I manage to snap out of it a little. We fall asleep together on decent terms.
DAY THREE
5 a.m.: I wake up in various positions of snuggling with M. I just want to be close to him. It feels like the dark, moody veil has lifted slightly. I'm happy to be feeling better, but frustrated by my overnight 180. This happens from time to time — it's a little nerve-wracking.
7:30 a.m.: I awaken to M asking me to take my clothes off and sit on his face. I don't oblige — honestly, I'm too fucking tired (I know, I know!). He goes down on me before telling me to lay flat on my stomach. He slides into me from behind. We fuck like this for a little before he turns me over and fucks me missionary until he comes. After a brief respite, his face is back between my legs. He pulls my hand down so I touch myself while he fingers my ass and pussy simultaneously. I come hard.
9:30 a.m.: Work is uneventful. Pitch meetings, articles, etc. I'm exhausted but happy to be in better spirits.
6:30 p.m.: I head straight to the gym. I need to work off some of this political stress. My mom, the smartest person I know and my personal lord and savior, had assured me he wouldn't win.
10 p.m.: I still can't believe he won.
DAY FOUR
12:30 a.m.: I haven't really been able to sleep, thinking about how opposite he is from Obama, not just as politicians — but as men. Even as a right-leaning independent, I'm shocked.
5 p.m.: M meets me at work and we head back to my apartment for a few hours. We catch up on Easy (it's a crime there are only eight episodes) before heading out to our friend's apartment.
10 p.m.: I'm three-quarters the way through a bottle of wine and blissfully happy to be surrounded by some of my best friends. We drink, smoke weed, and binge on food from BurgerFi. We discuss the election and the general consensus is sadness, though we all have different opinions and varying levels of optimism. This makes sense — three of us are white women, one of us is a Puerto Rican woman, one guy is black, and another is white. The conversation is really great. Everyone deserves friends like mine, truly.
11 p.m.: I want M badly. He looks really, really good tonight. He's the first black guy I've ever slept with, which I don't really think too much about. I think more about the fact we've known each other for years but only recently started hooking up. It's weird how you never know what's going to happen with the people in your life — and terrifying.
Midnight: M and I are about to hop in a cab back to my place when my friend asks if I want to bring home my stuff. She's referring to three boxes she went and picked up for me at my ex's apartment five months ago. M helps me bring them home and is extremely mature about the situation.
12:30 a.m.: We are flirty back at my apartment — but I pass out at the foot of the bed pretty much immediately. Whoops.
DAY FIVE

7 a.m.: M's alarm goes off. He starts fingering me without a second to spare. We have really close chest-to-chest sex. I love him on top of me. And deep inside me. And with his mouth on my neck. And moaning in my ear. Fuck, I love fucking him.
10 a.m.: The hangover is real. I am in a wine-induced sugar-coma-style haze all day. Tonight M is hosting a little get-together at a bar to celebrate the new job he starts next week. He's in PR. He wanted this job — I'm genuinely ecstatic for him.
6:30 p.m.: A lot of weird but awesome free stuff gets sent to the magazine — there's an expensive bottle of alcohol on my desk that's been there for a while. I grab it to give to M and head to the bar. I'm happy to be there, and take three shots. This will not help my hangover.
9 p.m.: I'm suddenly starving and feeling really unwell. I ask M if we can leave. He says he wants to wait a few minutes more. I tell him I can't and need to leave the bar before I pass out. Outside the bar, he gives me serious attitude. What the fuck! I didn't tell him he had to leave (even though everyone was ready to go).
9:15 p.m.: Still, my best friend and I plan to head back to M's apartment in Brooklyn to order food and hang out a little. He's a raging, distant dick the entire way there. This attitude that appears every now and again is something I can't stand about him. He points out I also have an attitude problem — and I totally do. But there's only room for one, right?!
11 p.m.: Back at his apartment, M and I argue in his bedroom. I'm exhausted, starving, and I just want to sleep. I hear my best friend leave, probably thinking I'm going to stay at M's. Now I'm enraged. Her apartment, only a short ways away, was my escape. I can't stay here. I call an Uber and (still starving) storm out.
12:30 a.m.: I get home late. Ubering from Brooklyn to the Upper West Side: 0/5 stars, would not recommend. I eat soup and passive-aggressively text M to tell him just how terrible my trip home was.
DAY SIX
7 a.m.: I wake up to texts from M, apologizing for last night. I'm irritated but now don't really care. It's my late grandfather's birthday. When my dad left my mom, my grandparents helped her a lot while my sister and I were babies. He's really the best example of a father and husband I've ever had. I post a long tribute to him on Facebook with my favorite picture of us together.
8 a.m.: M apparently saw my FB status and texts me that he's so sorry last night's shittiness is compounded on today.
12:30 p.m.: I haven't responded to M. I just don't feel like getting into it, and I have deadlines to meet.
1 p.m.: I get a call from the lobby about a delivery and I immediately know it's flowers from M. Nothing gets me like flowers, honestly — except for fried rice from my favorite Chinese place on the UWS. Flowers and fried rice: the way to my heart.
1:30 p.m.: I text M to thank him for the flowers. I'm pretty over last night. He is excessively thoughtful — which I appreciate because a lack thereof is one of the main reasons I left my ex six months ago. Thoughtfulness and empathy were not his strong suits, even after five years together.
6:30 p.m.: I'm in bed and, my god, I'm so fucking happy to be here. I notice my ex has liked my FB tribute to my grandfather. It's the first interaction of any kind — social media or otherwise — we've had in months. He knew my grandfather pretty well and was there for the funeral in Pennsylvania with me. It still shocks me from time to time that it didn't work out between us. Every now and then I get hard-hitting waves of missing him. But I don't want to reach out first — what would I even say?
DAY SEVEN
11 a.m.: I can't believe I slept that long, but I really needed it. I'm feeling good when M arrives at my apartment. We are going to see the space in Brooklyn where I'm hosting my 25th birthday next month. I've never had a big birthday party (besides when I was a child), but my friends told me I had to go all out this year. I'm so excited.
12:30 p.m.: M and I loll around in bed together before heading to my favorite Manhattan diner for breakfast. I say a silent prayer of thanks for strong black coffee and inhale a Denver omelette.
2 p.m.: The woman we're meeting to tour the space with is running a little behind, so M and I walk over to Prospect Park. It's gorgeous out. I'm so clingy for him today and can't let go of his arm. We make plans to go out tonight. After this week, I really need it.

Get Sex Diaries delivered every week.
Want to submit a sex diary? Email sexdiaries@nymag.com and tell us a little about yourself.