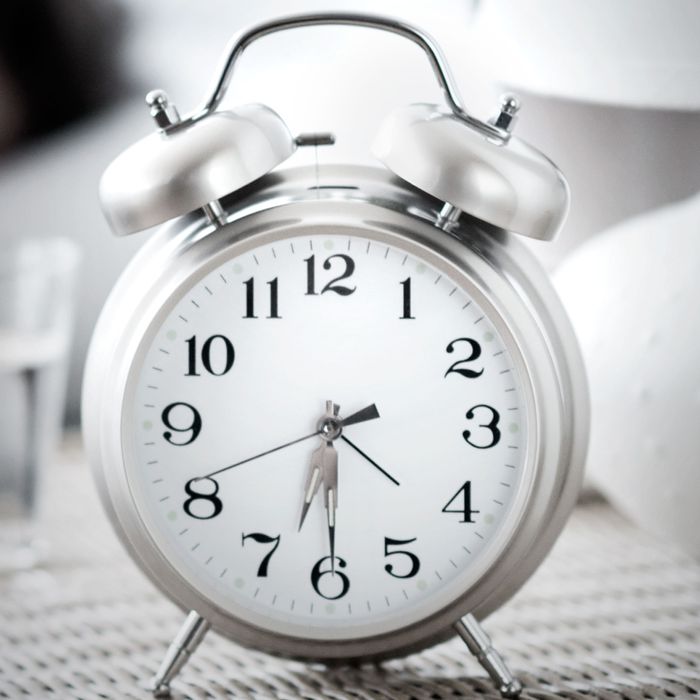 New York's Sex Diaries series asks anonymous city dwellers to record a week in their sex lives — with comic, tragic, often sexy, and always-revealing results. This week, a 41-year-old art teacher and single mom juggles her son, her work, and her lovers: bisexual, art teacher, Lower East Side.
DAY ONE

6 a.m. My 9-month-old son is up a little before six, as always. Most nights I clock in about four hours of sleep total. I've gotten used to it. His dad lives in L.A. and is largely uninvolved, so it's just us. My boyfriend is away until tomorrow (he's a jazz musician and has a show in Austin), and my girlfriend is away until tomorrow as well (she's at a wedding in Chicago). I'm "seeing" both and fully committed to neither, which they know about.
9 a.m. Fed, diapered, and out at the playground. My son has a super-happy, active life. We're making it work. I've always dated both men and women, but right now I'm more into my BF, Oren, than my GF, Lizzie. We FaceTime nonstop when he's on the road; ironically, he is much more engaged with my son than Lizzie is. He wants constant updates; it's sweet. Lizzie is a little too-cool-for-school. Super-sexy lesbians are untouchable, and she knows it.
10 a.m. We go to this single-mom playgroup in Nolita. They all know I'm dating two people, two genders … there's no judgment. My story is no more or less interesting than anyone else's. I love that about New York.
7 p.m. Full day of friends, family, a nice nap (him). Now, bedtime before work tomorrow — and a busy schedule with everyone back in town.
DAY TWO
6 a.m. Up! Mornings before work are hard AF. Get him fed and ready for day care. Get myself dressed-enough to look professional. I'm an art teacher at a private school, so I don't have to try too hard to look the part; it's just a strangely strict place, believe it or not. I think part of the reason I never feel bad about my single-mom situation is that these kids from "perfect" families are mostly not so happy and often not so balanced — I've learned there is no right way to do it.
12:45 p.m. Lizzie is coming over tonight. Almost all my dates happen at home — babysitters are expensive. Home dates mean a lot of fooling around in my bedroom. Which fortunately is on the opposite end of the apartment from my son. So far, it's not an issue. I get the tingles (there's really no other way to put it) when she texts me. We'll decide what kind of food to order in later.
2 p.m. Two missed calls from Oren. I call back. He wants to know if we're interested in a "family" road trip this weekend — his buddy offered a babyproof place in the Catskills. The use of the word "family" is endearing, but a little unnerving too. I've been dating Oren for about three months. He definitely wants to get serious. I tell him I have to figure out a ton of shit (logistics, not feelings) and will get back to him.
7 p.m. Baby is in bed. I text Lizzie to come over. I also hint for salads from Chopt. Expensive salads with lipstick lesbians: We should start a podcast. I open the wine. Mommy juice for president! (Okay, I'll stop being witty.) Speaking of president, Lizzie is one of those craaaazy anti-Trump people. I mean, everyone with a brain/heart/"pussy" should be anti-Trump by now, but she is constantly enraged over it — a Facebook ranter getting absolutely fucking livid over it to anyone who will listen. Is it okay to say I find it a little draining? We hate Trump. We will vote for Clinton. We will do our best to convince friends and family to vote for Clinton. Can't we leave it at that and watch some Fleabag?!
11 p.m. The night went south. Lizzie was on Facebook the entire time just tearing down anyone and everyone who wasn't as mad about the election as she is. I don't want to play the single-mom card too hard, but my free time is precious, and my day is filled with stress as it is, and I just don't need it. I told her I was exhausted and kinda pushed her out the door. She tried to get all sexy before going: a really great kiss with so much tongue (which I love) and her hands on my butt, in my butt cheeks. But I truly am tired. I might keep my distance for a few weeks. She seems too distracted to be hurt by that anyway.
DAY THREE

6 a.m. Up. Big, messy diaper change. An attempt at a healthy breakfast for him, a few bites of toast for me. An atrocious clean-up, then playtime. No shower for me (impossible; I always shower at night). A morning nap for him, not long after breakfast. Next, he goes to day care and I go to work.
9 a.m. My students are magical at times and little shits at other times. Today they are little shits. Not all of them, but enough that I'm over it. I pretend to do work at my desk while texting Oren. I miss him. I text him that Lizzie is losing it. It feels great to be so open with him. We banter back and forth the rest of the day.
5 p.m. Nice quiet night with my son. Playtime, laundry, dishes, mommy juice, etc.
11 p.m. I am almost done with Fleabag.
Midnight Fuck me, I'm going to be so tired tomorrow!
DAY FOUR
4 p.m. I'm going to spare you the mundane routine of motherhood and art teachering and skip to the place where I get really, really excited for a proper date night with Oren. I snuck out of school early to look for something to wear.
7 p.m. He picks me up just as the sitter arrives. I'm so in the mood for this. Sure, I'm always tired … literally always, every second of my existence, tired … but a pre-date glass of wine, plus a terrific shower, worked wonders.
7:10 p.m. Oren looks good. He is a big guy. Six-four, and he pulls off the lumberjack look well. I think he's self-conscious about his weight, but he shouldn't be. He's a babe.
11:45 p.m. Sex back at his place. We have pretty normal sex — well, it's a little sappy and romantic, I guess. Definitely not just "boning." He gives great head, too. I always orgasm with him. We are both very satisfied as I call an Uber home. He wants me to stay, but I can't. Such a tender man! I just need him to slow down a little bit. I said no to the weekend away. It's just too hard with my son, and I don't want to give Oren the wrong idea. I'm not ready for anything too serious right now. I'm doing the best I can do.
DAY FIVE

6 a.m. I'm very fucking tired. I pull it together for my kid.
6 p.m. The day is a blur. I'm getting into bed the second this child is asleep.
7:28 p.m. Motherhood has changed my life in every way. I used to see movies all the time, go to concerts twice a week — I was very social. I dated my son's father for several years, but we were always long distance, so freedom was my thing. That's all gone now, but I truly wouldn't change anything for the world. Good night!
DAY SIX

6 a.m. I have Fridays off, so the morning isn't such a grind. My son and I cuddle. We go to the diner and make a mess out of breakfast. It's pretty wonderful — plus, coffee.
11:30 a.m. I stroll him over to where Lizzie works. We like to grab lunch on Friday at this amazing ramen place, which is surprisingly stroller-friendly.
12:15 p.m. Lizzie lightly apologizes for her insanity the other night. She is so hung up on the election it's hard to talk about anything else, though. I mean, we try, but she isn't too present. That's okay. I admire her passion. Our legs touch under the table. I am tremendously attracted to her. If my son weren't there throwing noodles around, I would insist we find a place to fool around. I'm dying to touch her.
5 p.m. Oren swings by with a bottle of wine and to help me with the bath-time-and-dinner routine. He is great with the baby. I appreciate his help. I don't have the space in my brain to think about what this relationship means to me. Maybe it means more to me than I realize, or perhaps less. Like I said, I'm doing the best I can for now.
8 p.m. The house is in order, and I'm collapsed on the couch. The wine has kicked in. We made grilled cheese for us adults — ha. I got my period this morning, so we won't be having sex. We just hang around and talk.
10 p.m. I need sleep and tell Oren to go. The sweetest of man of all time. I love his bear-hug good-byes. Get into bed with all sorts of lovelike feelings for him.
DAY SEVEN

8 a.m. My brother and his wife are taking the baby for the day — wooooohooooo. Plus, they show up with bagels. They're having a hard time getting pregnant, so as much as they love my son, there is a strand of awkwardness (and, I suspect, pain) when they spend the day with him. I really appreciate it, though.
10:30 a.m. Ninety-minute massage, a gift from my co-workers that I haven't had time to use in nine months. Better than any sex!
1 p.m. I'm sitting at my favorite bistro having a glass of wine, waiting for my lunch. This is major. For fun, I go online — Tinder. Maybe it's time for a new crush. Maybe I'm dragging things on with both Lizzie and Oren because neither is quite right for me, but having both is better than no one. Maybe that's okay? Slim pickings on Tinder. The girls are better than the boys.
2:30 p.m. I walk around listening to music until it's time to relieve my brother. Thinking about everything and nothing at the same time. The city feels super alive today: music, shops, books everywhere.
7 p.m. My son is asleep. Oren is on his way over. He leaves for a show tomorrow and wants to spend time together before he goes. This feels a little needy, but it also feels good. I suppose I'm just confused — and lucky. 
Want to submit a sex diary? Email sexdiaries@nymag.com and tell us a little about yourself.