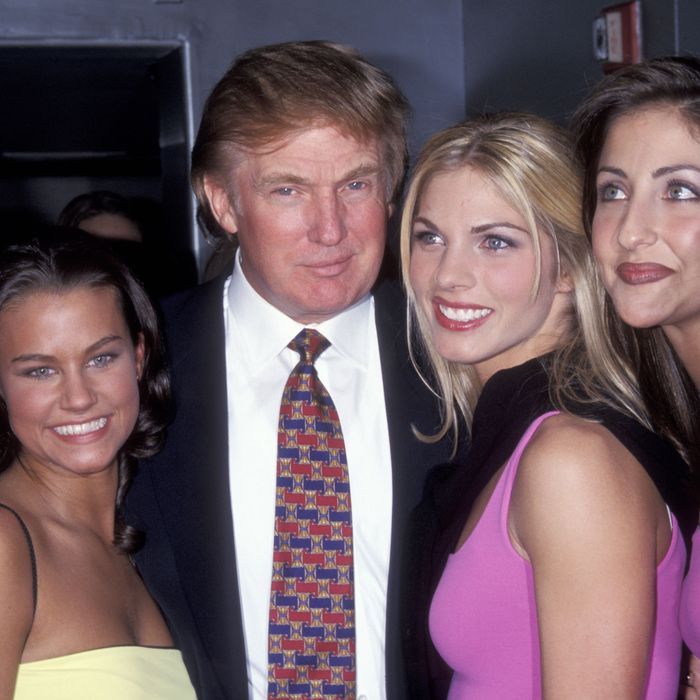 Donald Trump at the Miss USA and Miss Teen USA Pageants Press Conference in 1999.
Photo: Ron Galella/WireImage/Getty Images
Even before the release of the 2005 Access Hollywood tape, Donald Trump's candidacy was giving women anxiety. But after it came out — and after at least ten women came forward to accuse the Republican nominee of sexual assault — therapists across the country say the election began dredging up memories of sexual assault and harassment for their female clients.
"More than one client of mine has talked of physical nausea that they relate directly to current political happenings," Melissa Lester Olson, a psychotherapist based in Atlanta, Georgia, told Time. She went on:
Women whom I have seen for years are only now bringing up physical and sexual trauma from their past. I think this election is re-traumatizing them. Verbal and emotional abuse, physical abuse, sexual abuse, rape, discrimination at home or at work — women experience these things often. There have been many reminders of experiences that so many of us have had.
Joanna Ford, a counselor in Denver, Colorado, said the election comes up in sessions with clients "every single day." "Once the videotape of Donald Trump and Billy Bush … came out, it had great impact," she told the magazine. "For women who are not feeling safe to begin with, this can trigger serious feelings of insecurity and fear."
In addition to being traumatized by his comments, women are also worried about what a Trump victory would mean for them from a policy standpoint, said Tanya Bannister, the director of Cognitive Therapy for Women in New York City. Bannister estimated that about a quarter of her female clients have brought up the election in sessions. "The focus tends to be their anxiety about a possible Donald Trump win, and the sense that that would be catastrophic for them [and] for their children," she said.
In response, some therapists have recommended their clients stay off social media: "Turn off the news feed. Stop reading everything if it just gets you more stressed," one told Reuters. Also: vote!