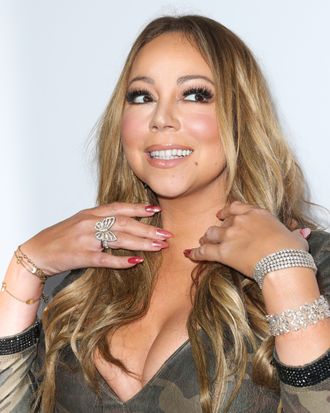 Mariah Carey.
Photo: Paul Archuleta/FilmMagic
There's reality TV drama, and then there's Mariah Carey drama, and it's hard not to anticipate what will happen when the twain shall meet in December. Carey's been embroiled in real-life drama with her ex-fiancé James Packer since the couple broke up in October, with accusations about everything from cheating to Scientology. One of the big questions that remain is whether or not Packer will be cut out of the show once it airs. Rumor has it that producers were freaked out about the break-up, and leaked outtakes show Packer prominently featured in several clips.
According to Entertainment Tonight, Carey has said that the show will include footage of her trying on her wedding dress. "All of those moments are bittersweet, but you just have to focus on whatever you're focusing on and keep it moving," she said. As for other bittersweet moments, like ones with her now-ex, ET's source in Packer's camp insists, "The show hasn't even finished shooting. He has not asked to be taken out. It is totally false."
Mariah doesn't seem too worried either way.