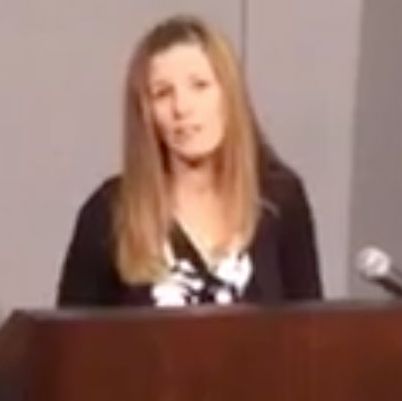 Anmarie Calgaro at a Wednesday press conference in Minnesota.
Photo: Emily Gruenhagen/Facebook
A mother in Minnesota announced on Wednesday that she was suing her transgender teenager, who is undergoing gender reassignment under a state law that allows emancipated minors access to medical care without their parents' approval.
Anmarie Calgaro announced in a press conference that she filed the lawsuit after learning her 17-year-old was receiving hormone-replacement treatments paid for by medical assistance, NBC News reports. She referred to her child as her "son," even though the complaint included a doctor's note saying that the teenager had transitioned to female. Calgaro said during the conference:
"The news that county agencies and health service providers, the school and other county and state offices were completely bypassing me came as a total shock. Why wasn't I even notified?"
The mother is represented by attorney Eric Kaardal, along with the Thomas Moore Society, a law firm that regularly takes on anti-abortion cases, the Washington Post reports. The lawsuit challenges the Minnesota law that lets minors seek medical care and procedures without their parents' consent if they are emancipated. The state doesn't have a legal process for emancipation, but according to NBC News, the law says minors who don't live at home can make their own medical choices.
The teen's emancipation statement was created in June 2015 with Mid-Minnesota Legal Aid and filed in court that October, and it is included in the complaint. It states that "mother has made it known to him that she no longer wishes to have any contact with him." Additionally, the statement says the teen's mother knows "where he is and has made no attempts to bring him home," and that she took no steps to "report him as a runaway."
Calgaro disputed the claims about her relationship with the teen and cried at the press conference when talking about being left out of her child's health decisions.