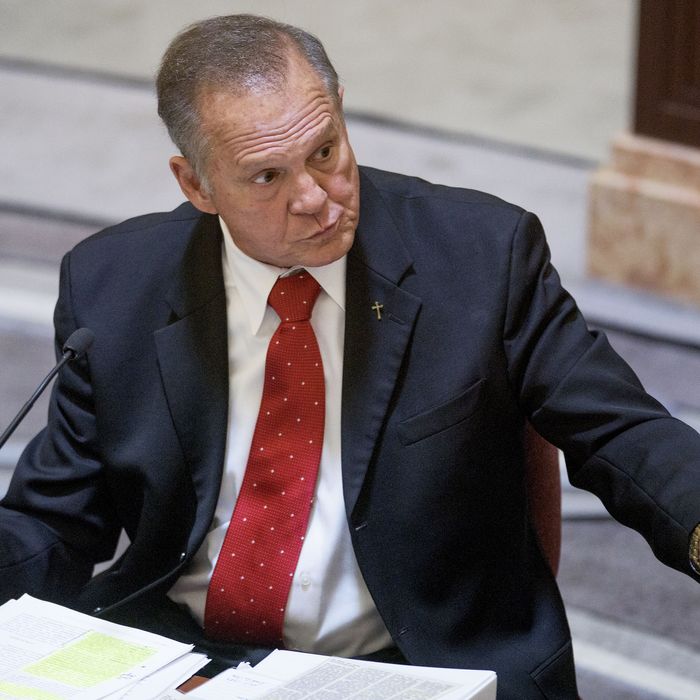 Alabama chief justice Roy Moore is on Hinder.
Photo: Mickey Welsh/AP
The president-elect's coalition is not exactly forward-thinking when it comes to abortion access; in fact, one of Mike Pence's campaign promises was that he would overturn Roe v. Wade. Whether that actually happens remains to be seen, but in the meantime Lady Parts Justice — a reproductive-rights messaging hub made up of writers and artists — created an app called Hinder to sort through anti-choice politicians in lesser governmental roles.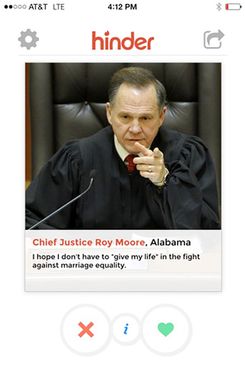 "Hinder is an exciting new app that helps you keep track of all the unhinged anti-abortion zealots right in the palm of your hand," the iTunes description reads. "Just read, swipe and share! Letting people know about craptastic extremists has never been easier!"
The app itself works just like Tinder, except it showcases politicians who have made anti-choice remarks or who have voted against abortion access in the past. It includes people like Texas senator Ted Cruz, former Alabama chief justice Roy Moore, and former Pennsylvania senator Rick Santorum.
Before you swipe, you'll see a quote from each politician about his or her stance on abortion. Santorum's, for example: "If you are impregnated by rape, I think you should accept 'the gift of human life, and accept what God has given to you.'"